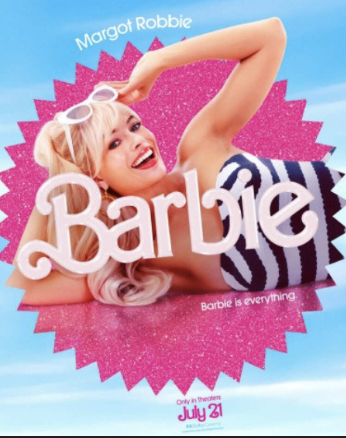 Fellow feminists, we can claim a victory. A blonde pawn of the patriarchy has defected to our side. Her name is Barbie. You may think, 'Barbie…a feminist?' 'That braindead doll…a feminist?' Greta Gerwig, hats off to you. This is the most unexpected plot twist of all time.
It is one that comes much to the chagrin of the right. The film produced hysteria from conservatives who derided it as "anti-man indoctrination" and bemoaned its "toxic femininity." Right- wing pundit Ben Shapiro set a Barbie doll afire in his outrage.
But, Director and Writer Greta Gerwig's attempt to rebrand this skinny, Eurocentric-norm-perpetuating literal baby-doll into a feminist was not only met with skepticism from conservatives. After all, for nearly all of her 70- year history, Barbie has been sexism personified.
From her earliest days, she sowed insecurity in young girls. In 1963, Babysitter Barbie came with a book entitled "How to Lose Weight?" and answered that question, "Don't Eat." This was a children's toy, mind you.
Barbie's body reinforces that message with its entirely unrealistic proportions. The doll's plastic and fake form has real implications. A 2010 study by the National Library of Medicine found that young girls who play with below-average-size dolls consume less food—below the appropriate amount— than those who play with average- size dolls. Barbie has undoubtedly contributed to the body image issues of countless girls.
Her features are not only unhealthy, but Eurocentric. It would be years after
her 1959 release that Mattel released versions of Barbie with anything but a white skin tone.
All this begs the question, can a blonde bombshell who instilled insecurities of various forms in young girls with her impossibly long legs, perfect figure, blonde hair, and blue eyes really be a feminist convert?
The film almost convinced me, yes. I so wanted to be here for this.
"Barbie" places stereotypical Barbie (Margot Robbie) at the center of a female utopia. In Barbieland, in stark contrast to the real world, every position of power is occupied by an intelligent, fulfilled woman, with a great pair of heels. The supreme court is entirely female, and the president is the graceful Issa Rae. Men never interfere with the women's vision. They exist only to support their female counterparts and make the dance numbers a success.
However, a storm is brewing in this contrived, plastic paradise. This world begins to crack at its inauthentic seams. Thoughts of death begin tormenting Barbie. Her feet collapse from their arched position. Both events are unimaginable horrors.
At this point, Barbie consults Weird Barbie (Kate Mckinnon), a quasi-mystic, who instructs Barbie to set out on a journey to the real world and heal the girl to whom she belongs. And thus, Barbie's hero's quest begins: to quiet those irrepressible thoughts of death and regain that disturbingly-extreme foot arch.
The real world certainly does nothing to quell her depression. There, Barbie encounters patriarchy and female insecurity and has no choice but to grapple with her role in it. A bitter speech by the young girl who owned Barbie, describing the body image issues the doll ingrained in her, disillusions the naive
Barbie and reminds the audience of the role this doll has played as an emblem of the patriarchy; while Barbie's been frolicking around in her Dreamhouse, the rest of us suckers have been navigating the sexism of the real world—you can't help but grumble.
Acknowledging that the young girl is justified in her resentment, Barbie sets out to redeem herself. In a heartwarming turn of events, Barbie teams up with the young girl she's hurt and her mother to restore Barbieland to its former glory (by this point, the men have seized control of the matriarchy) and to restore confidence to the young girl and her mother.
We are also treated to an eloquent monologue from the young girl's mother about the cognitive dissonance involved in being a woman. Although a fellow editor dismissed this speech as "cringe," I found it held many truths about the damned if you do, damned if you don't dilemmas women face.
After such a speech, it may seem bewildering that Barbie makes a choice to become human and brave the real world, misogyny and all, forevermore. But perhaps Gerwig is reminding us that feminism doesn't require that women be Barbie-like paragons of perfection itself; that would be a demand equally as prohibitive as those of the patriarchy. Women should be permitted to falter in their lives, beliefs, and even in their feminism. Because women are human after all. That's the whole point.
To this extent, this film does succeed
in reflecting 21st century women. We aspire to supreme court positions and the presidency. We love Billie Eilish. And yes, we scroll instagram an unhealthy amount and re-watch the BBC's "Pride and Prejudice" (which the movie calls us out on). We deal with body image issues disproportionately. We are learning to overcome whatever may have historically pitted us against one another.
This film had such potential to rewrite history. But, unforgivably, it falls short in one arena; it fails to adequately examine sexism's intersection with racism, anti-LGBTQ sentiment, and other forms of marginalization. It is a white women's film, with a white woman propelling the narrative. At one telling moment, a young girl accuses Barbie of being a "white savior." The comment is intended as a joke, but its truth lingers in the air. Largely absent from this film has been any substantive discussion of the experiences of women of color, transgender women, and all other women who exist at the intersection of systems of power. The film has opted for neatly packaged feminism, tied up in a pretty, pink box.
So to answer my initial question, yes, Barbie is a feminist. A white feminist.
Hopefully, now that she's chosen to become human, she'll be enlightened not only to sexism, but racism, homophobia, and all the other forms of discrimination we have here. Welcome to the real world, Barbie!