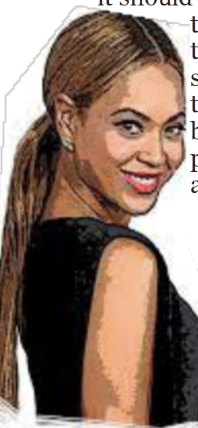 As a little girl who wanted nothing more than to become a singer, I idolized Beyoncé. She stood above all as a role model. In elementary school, I would walk around my house and classrooms teaching everyone around me the lyrics "All the Chicalays," which was my understanding of her 2008 song "Single Ladies." I grew up with her presence being a source of confidence. Her alter ego, Sasha Fierce, helped me through choir performances and solos when I was unsure if I had the strength to share my voice with a crowd of strangers. I thought Beyoncé was the best female singer out there. I still believe that she is one of the best of our time, but now it is because of more than her skills as a singer.
You'd be lying if you said Beyoncé is unremarkable. Even beyond her talent, she is confident and knows what she wants and how to get it. I don't know what lies behind the surface of what she presents to the media, but her self-presentation is noteworthy enough. There is an immense pressure that comes with being a global superstar and a mother of three. Yet, she continues putting out absolute bangers and giving jaw-dropping performances, overcoming strife in her family life (Jay-Z's affairs) and celebrating her children (Blue Ivy often performs at Beyoncé's concerts).
Despite my love for Beyoncé, until her concert this August, I had never seen her live. I don't see celebrities very often, so any interaction—even if it's as insignificant as seeing Don Cheadle walking around on Martha's Vineyard—makes me feel like a kid on Christmas. I also wouldn't say I like attending many concerts because they are loud, busy, and expensive, but when my friend Nnema offered me an extra ticket to the Renaissance Tour, how could I say no?
Beyoncé in concert was surreal. There were tens of thousands of people pushing past each other to find their seats, many dressed in flashy silver cowgirl outfits to match her album, "Renaissance." I saw people hopping into merchandise lines that seemed to go on for miles. I was thrilled to be there, and as I watched her enthusiastic fans frantically searching for their seats, my excitement was only amplified. The rest of the night was filled with my own screams.
We could see the entire stadium from our seats, the crowds spilling in as the sky turned a light purple and then faded to black. The stage screen mimicked TV static until moments before she came out, when it changed to a cloudy blue sky. Everyone erupted at the first sign of her arrival, and although I didn't think it was possible, screamed even louder when she rose from below the stage. Beyoncé had always felt like a figment of my imagination, someone I could only access through a song or a TV screen, but watching her float onto the stage that night felt magical. Her dress was a black lace corset top with opaque lace skirt and sleeves. Her hat boasted the same patterns, its lace rim spreading above her head like an umbrella meant to protect her from the rain. Her diamond cat's-eye glasses shimmered as she sang her first song, "Dangerously In Love." I definitely don't cry often, but that night Nnema and I bawled at the sound of her voice.
For me, the best part of the concert was her performance of "Run the World (Girls)." The song is empowering on its own, but performed live with her hyper choreography and talented backup dancers made me feel as though my heart might beat out of my chest. She embodied her lyrics as her black bejeweled bodysuit shone in the light, and her blonde hair whipped around in response to her dance moves. I was mesmerized watching a song I had loved since its release be sung by the woman I have admired for my entire life.
There is so much to be said about the confidence that comes from seeing a Black artist adored by billions. In the media, there is still a significant disparity in representation between white people and people of color. I firmly believe it is not acknowledged at the level it should be. There have been so many cases where I see
talented artists of color stripped of the credibility they deserve simply because of the color of their skin, the language they speak, or the culture they bring into their music. Beyoncé has always been vocal about the respect she deserves in her profession, making herself a positive role model all children of color are entitled to.
All in all, I am beyond grateful that I was able to watch Beyoncé perform live. I had heard from many that her concerts are amazing because of how she can entertain a crowd, but in person it is much more than can even be explained. The booming of the bass, the perfection of her voice, the outfit changes, the setlist, the dancers: everything compounded into one major performance that reminded me of why and how music can be so important and inspiring.