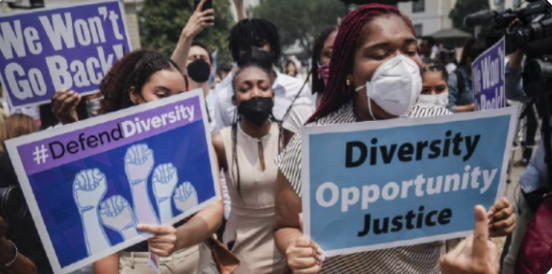 For more than half a century, colleges have employed affirmative action to create ethnically and racially diverse classes. However, on June 29, the Supreme Court of the United States ruled that the use of affirmative action at Harvard University and the University of North Carolina (UNC) was unconstitutional, resulting in the removal of race-conscious admissions in all colleges in the U.S. The lawsuit, brought by the Students for Fair Admission (SFFA) organization in 2014, alleged that both colleges' admissions practices discriminated against applicants of Asian descent. SFFA claimed those universities' admissions policies were in direct violation of the Civil Rights Act of 1964, which bans businesses and institutions with federal funding from discriminating based on race, sex, and background. Harvard and UNC countered that race was used as a factor within a holistic application process, stating that "diversity and difference are essential to academic excellence."
As colleges and universities around the country have
already begun adjusting their practices in light of the Supreme Court's ruling, the class of 2024 will take on a new admissions landscape. However, Upper School (US) College Counselor Amy Selinger says that the exact impact of the Supreme Court's ruling on college admissions policies is still largely unknown.
"The honest answer is that nobody knows how the ruling is going to impact admissions," she said. "We can all guess and look at the decision, but we aren't going to have a concrete answer for at least the next couple of years. I think we can look at the University of California's system, as there was a referendum that said the UCs cannot use race as a factor in admission decisions. They have had that for many years, so we can look at what that data looks like."
In 1996, California voters banned affirmative action in the state's college admissions practices, leading the University of California to find alternative ways to increase diversity. This involved improving geographic and socioeconomic diversity, furthering outreach efforts, and furthering financial aid goals. However, the University of California still struggles to enroll a student body that reflects the diversity of the state, with Latino/ a/x, Black, and Native American students all underrepresented at the university.
Ms. Selinger said students should not change their college application plans due to the Supreme Court decision.
"I think it's gonna change a lot less than some people think it's going to," she said. "I think some folks take it to mean, 'I'm gonna get into this or that school' all of a sudden, and I don't think that's going to happen. What worries me is that kids from underrepresented backgrounds are not going to even bother applying to places because of this, which is unbelievably discouraging."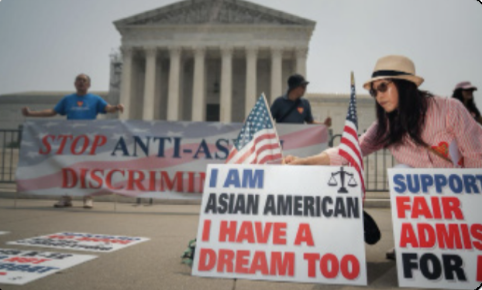 As the fall draws near, Ms. Selinger says that the College Counseling Office will continue to aid students in bringing their full authentic selves to the application process.
"First and foremost, we will continue to have individual conversations with students, creating space for them to talk about this decision or not talk about the decision," she said. "And
as I said earlier, I think it's really important to keep encouraging students to apply to the colleges they're excited about. Our office has never been somewhere that tells kids that they can't apply somewhere. We will let them know the probabilities, but will always support them throughout the process."
As the fall rolls around, the school's seniors will enter uncharted waters as they prepare their applications. Jude Michel Poisson '24, who identifies as Black, said the Supreme Court's decision was a shame.
"I feel like getting rid of affirmative action was not necessary, as it provided a good way of bringing equity to the college process," he said. "There's only so much you can do to make the process fair, and I feel like affirmative action helped in doing that. It's important to have diverse views from all sorts of people in higher education, as a greater range of backgrounds brings a lot more opinions and perspectives."
Jude says he may discuss how race has shaped his life in his essays.
"Colleges can't identify the race of students unless it's in their essays now, which I don't think is necessarily fair," he said. "When applicable, I'll probably mention how race impacts my identity in my essays. However, it isn't a proper substitute for affirmative action."
Andre Jiang '24, who identifies as Asian American, also said his race is an integral part of his identity.
"The main way that the removal of affirmative action is affecting my college process so far is through the essay prompts, as they're asking more about life experiences and being a part of your community," he said. "I guess they are asking about race in a roundabout way. However, I probably would have written about being Asian American in a prompt anyway, because it's a pretty big part of my identity."
Andre does not know what to make of the ruling, he said.
"I can kind of see both sides of it, but I'm definitely unsure of whether it was the right decision."
The College Counseling Office sent the following statement to the class of 2024 and its parents on July 1, in the wake of the Supreme Court decision to strike down affirmative action.
We want to reach out to the students and families of the Class of 2024 as we process the recent decision from the Supreme Court on race-conscious admission. We begin by stating that we firmly believe in the value of each student's lived experience
— including their race and ethnicity — and in the strengths of a diverse community. In the coming months, the BB&N College Counseling Office will continue to work closely with our counterparts in college admissions offices and will stand ready to help students navigate the application process in the fall with the most updated information. At this moment, however, we feel it's important to assure all of our students that we see you and will help you navigate the impact this ruling will have on your individual journeys. Our commitment to supporting our students as they bring their full, authentic selves to the college application process, will never waver.
Signed, Dr. Price and Ms. Selinger