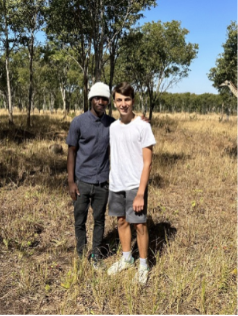 With the rapid rise of digital communication, hand- written letters may seem antiquated. Will Benjamin '25 disagrees. He has spent nine years forging a friendship with his 16-year-old pen pal, William Martin, who lives over 7,000 miles away in Jamali, Malawi. This summer, Will finally met his pen pal when he traveled to William's hometown from June 25 to July 1.
During the one-week trip, Will explored William's hometown, helped paint a classroom at a school run by non- profit Malawi Children's Mission (MCM), bonded with the students at MCM, and built a sundial.
The trip was led by Karen Rhen Hirsh, a board member and the United States Director of MCM. MCM founded the pre-K through Grade 8 school, MCM Academy, William's former school, in 2013 because Malawi schools are typically under-resourced and have an average student-to-teacher ratio of 100 to one.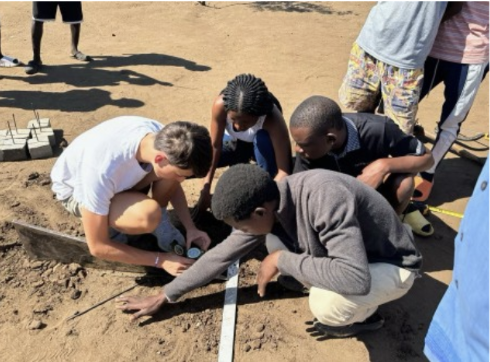 Ms. Hirsh enlists MCM's students in a program called
Global Classroom, which promotes cross-cultural understanding by pairing students with pen pals in the U.S.
"I hope that the students learn about each other's cultures and that in doing so, we have more openness to each other," Ms. Hirsh said. "In so many cases, in both areas, if you don't have exposure to other people and
writing to one another even after Will left Derby Academy.
Will and William had discussed his visiting Malawi, but the pandemic foiled their intentions. In December 2022, though, Will was at last given the opportunity to plan a visit. Once there, Will connected with the students about their experiences with the Global Classroom Program—they communicated in English—painted a pre-K classroom, and taught 30 seventh, eighth, and 10th graders how to build a
sundial.
Will first became interested in building a sundial in third grade when his classmates and their counterparts in Malawi were challenged to fix a common issue in their lives and chose getting to school on time. However, the students in Malawi had to deal with a challenge which Will and his classmates did not; their homes did not have electricity, and thus they did not have access to alarm clocks.
Eight years later, Will decided to rectify this. Having an interest in watches and recognizing the need for a time- telling object in the lives of the students, Will was eager to research sundials. He consulted Upper School Science Teacher Jay Shah, read studies, papers, and articles, and watched videos about how to construct sundials. Along with the students at MCM, he built a sundial made of wrought iron and concrete in the school courtyard.
Upon arriving in Malawi, Will and his mother, Nicole Benjamin P '20 '22 '25, were warmly embraced by William's mother and the community, they said. MCM's Social Service Director Phoebe Kufeyani acted as their interpreter because William's mother and much of the rest of the community outside of MCM did not speak English.
"William's mother laid out a tarp on the dirt ground outside of their house, and we sat there, and she kept saying in Chichewa that her heart was full of joy," Ms. Benjamin
Will was her 'new William.'
"I had only ever seen a photo of her, but she kept saying, 'You're my son,' and it made me feel like I was a part of the family," Will said. "That meant the world to me."
Despite having vastly different backgrounds, Will realized he and the students at MCM had a lot in common, he said.
"Before I got there, I wasn't sure if the kids were going to like me or want to hang out with me, but I could not have been more wrong," Will said. "This trip opened my eyes to a life very outside my own, but what I found was that, down to the bone, William and I were very similar. We're both 16-year-old kids who are just excited to be around our friends, listen to music, and play games. Being at MCM felt like hanging out with my friends from home."
On Will's last day, Will and William played soccer, paintball, and drove bumper cars.
Will gained an entire community of friends, he said. "At MCM, I felt like I was a part of the community as
soon as I stepped off the bus and the kids ran over to say 'hi' and welcome us," Will said. "Whenever I went to go do something, there were always people willing to help and make the work more collaborative. For the past nine years, I have been writing only to William, but when I went to go write my most recent letter, one thing I was very excited about was saying 'hi to all of my new friends and newfound family in Malawi."'
Photo Courtesy of Will Benjamin
William (left) embraces his American pen pal, Will (right).
other cultures and things that are different than your own, we can judge from afar."
said. "She kept tearing up because she was just so happy that
we came to her and her son. It was the most welcoming and nice community you could possibly imagine. They are the most happy people. They're just so joyful."
Will was assigned his pen pal when he was in second
grade at his previous school, Derby Academy, which partners with MCM's Global Classroom. For the next nine years, Will and William updated each other on their journeys through life. They discussed their aspirations, drew pictures of their families, and developed a close bond. The two continued
William and his mother treated Will and his mother like
family, they said.
"When I was saying goodbye to William, on the last day, he said to me, 'my new mom,' and I mean, that filled my heart," Ms. Benjamin said.
William's mother even joked that his American pen pal