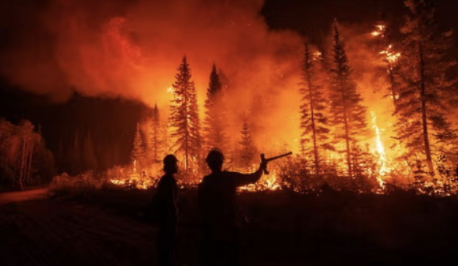 Record-breaking temperatures and raging wildfires are just two of the ways the burning of fossil fuels and other human activity have damaged the planet this summer. A heightened concern in recent years, climate change is now wreaking havoc impossible to ignore; this June was the hottest ever recorded, and this July was recorded as the hottest month since 1880, according to NASA. The climate crisis takes different forms in different places, but it is impacting members of the school community and their loved ones around the world.
This July in Greece, wildfires on the islands of Rhodes, Corfu, and Crete disrupted the lives of tourists and locals alike. Ana Chrysa Maravelias '24 said the wildfires and droughts in recent years have affected the villages where her extended family lives in the Peloponnese and Crete.
"My parents' villages have experienced significant drought periods, resulting in minimized crop yields," she said. "Olives and olive oil in particular are major exports, and the heat has made it so that olive trees can no longer produce substantial oil."
It upsets Ana Chrysa that the wildfires in Greece are consuming the ancestral lands, homes, animals, and, as a result, the culture of Greece. The wildfires proved how deeply connected Greeks are to their land, she said.
"Folks, including my uncles, refused to evacuate their families' lands even, or, rather, particularly when the blaze was in their fields," she said. "The connection that people have to the land and community has been on full display during the heat waves and fires."
Wildfires not only devastate those in the locations they burn, but people as far as 3,000 miles away, as their smoke migrates. Upper School (US) Co-Faculty Advisor to Eco Reps Ariel Duddy said she experienced the hazardous
effects of wildfires while visiting Stowe, Vermont in late June. Smoke from the blaze in Nova Scotia, Canada had tainted the air.
"The micro dust level was so high that our voices were raspy, and our throats were sore by the end of the day," she said. "In a state known for its mountain views, we couldn't see a single mountaintop because they were covered in smoky air."
Eco Reps Co-President Max Laibson '25 said the hotter temperatures this summer worry him, as they could affect his grandparents' health.
"The heat's a concern now," Max said. "Are my grandparents safe in the heat? Luckily, they are, but it's a new worry. Before it was like, 'Oh, they can get COVID,' and now it's, 'Oh, are they going to get heatstroke?'"
Max is concerned about the lack of awareness regarding the climate crisis, he said.
"We're setting records," he said. "I think July 4 was the hottest day ever on record, and people don't know about it. We're causing fundamental changes to our planet that will take a long time to undo. And it's shocking to me how we're able to make these changes and not everyone's concerned about this."
Arts Department Head and Co-Faculty Advisor to Eco Reps Laura Tangusso likewise worries about the effects of human activity on the planet.
"I've been paying attention to climate and environmental issues for decades and have believed for a while that what we're now experiencing has been inevitable," she said. "Even so, the breadth and intensity of what is happening, which is just the beginning of extreme changes to our planet, is hard to fathom. So, while I'm still enjoying the usual pleasures that summer brings, I carry a sobering awareness of the fragility of it all."
Ms. Tangusso said individuals must keep fighting climate change. It is important to reduce the use of plastic,
not just recycle, avoid products with toxic chemicals, eat more environmentally sustainable foods, and aim for more energy efficient cars and homes, she said.
"It may seem like a lot, but so much is just about taking a bit more time in our daily practices to care about this place that we so dependent on," she said.
Sustainability Analyst at Portland Community College Stephania Fregosi '08, said collaboration is integral to fighting climate change.
"At some point, you have to realize that not everyone's equally empowered to take individual action and that you can burn yourself out doing that," she said. "The question then becomes: How do we enable people to take collective action? How do we enable two people share power with one another?"
Acknowledging the stress caused by societal problems is an important step to tackling them, Stephania said.
"We're overwhelmed with COVID-19 already. We're overwhelmed with social injustice. How many things can we handle at once? The answer is not that many. When we learn how to recognize and deal with climate anxiety, it actually opens us up to receiving information and being able to take more practical action."