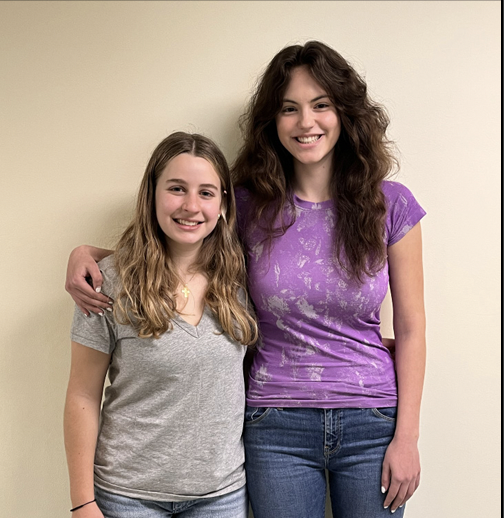 Fifteen years since Marina Keegan's class of 2008 graduated, and 10 years since the Marina Keegan '08 Summer Fellowship's creation in 2013, students continue to take advantage of the opportunity to make a difference in their communities. The Marina Keegan Summer Fellowship Committee—comprised of five faculty members, Marina's parents, and Marina's classmate and friend Luke Vargas '08—received applications from 21 students with 20 proposals. Out of the record-high number of proposals, two applicants, Emilia Khoury '25 and Alexandra Kluzak '24 were selected to receive the fellowship.
Emilia will create a series of painted panels based on Florida Governor Ron DeSantis' recent act to move about 50 immigrants from Texas to Martha's Vineyard. Alexandra plans to help launch a printed newspaper with the students at the Alexander Twilight Academy (ATA), an after-school program for over 100 middle school students in the Boston area who come from under-resourced backgrounds.
The Keegan Summer Fellowship, created in honor of Marina Keegan who died in a car accident, is awarded annually to support activist and artistic projects of students. Each project aims to honor Marina's legacy by reflecting her values.
Emilia initially had the idea for her project after discussing the plight of Venezuelan immigrants with her family, she said. Emilia is halfVenezuelan and was curious to learn more about her Hispanic heritage. She hopes to bring their stories to light and incorporate her love of drawing. Her project was inspired by American painter Jacob Lawrence's Migration Series, and she plans to create a similar set of paintings, she said.
"I hope that my art will inspire others to learn more about migrants sent to Martha's Vineyard by Ron DeSantis," she said. "These paintings are not meant to be endpoints nor to provide answers but to make the viewer question themselves and our society to further stimulate serious conversations—provoking thought about a distinctive migration experience."
In addition to informing the community of the immigration of Venezuelan immigrants, Emilia wants to inspire others to create work relating to their own cultural identities.
"I hope this project will enrich the BB&N community by inspiring more students and faculty to cultivate work related to their cultural identity and advocate for communities in need," she said.
Emilia plans to share her work with the school community through a printed catalog. Her paintings will also be on display in the Almy Library, although the pieces may be temporarily relocated to city halls, senior centers, community centers, and other public areas.
Alexandra will partner with ATA to lead an elective in their virtual summer program. The elective will meet for 45 minutes twice a week, culminating in a printed eight-page newspaper showcasing the students' writing, photos, and artwork. She will provide journalistic instruction in the process and production of the paper, and the students will hold leadership positions in the paper as well.
She said her role as Editor-inChief of The Vanguard has shown her the importance of journalism, an opportunity that should be available to all students.
"I understand the extraordinary power of journalism in amplifying views, perspectives, and experiences," Alexandra said. "That power is something in which all students should share."
She wants to give students coming from under-resourced communities opportunities to explore journalism and develop their interest in writing, she said.
She expects the content of the paper to be closely related to social justice issues, aligning with both the activist roots of the fellowship and a central aspect of the ATA curriculum.
Fellowship Committee Member Beth McNamara said Emilia and Alexandra's proposals were thorough.
"Both students distinguished themselves for the passion behind their proposals and the degree of initial planning they had already done," she said.
Ms. McNamara stated that both proposals emulated Marina's ideals and values. "
Marina's graduation speech ends: 'Let's make something happen to this world,'" she said. "While all the proposals had a version of that, I think these two were particularly strong in that effect."
The Fellowship Committee is planning to host a reunion of all the past recipients of the fellowship that would coincide with Marina's class of 2008 reunion.
"Kids, now grown adults who knew Marina, will get to meet some of the kids who have benefited from her legacy," she said. "Some of those alums contributed to the funds that created this fellowship. And we're hoping it all keeps connecting and growing forward."
Editor's Note: Although Alexandra and Emilia are editors for The Vanguard, neither saw the article prior to the issue being printed to preserve the article's integrity.