Keegan fellow trifecta carries on her legacy
With plans to tackle a refugee crisis, the COVID pandemic, and a lack of government transparency–this year's Marina Keegan '08 Fellows persuaded the Fellowship Committee to name three winners out of 14 applicants, breaking its tradition of naming only two.
Sara Berz '23 plans on holding workshops for Afghan refugee children, Liam Deighton '24 intends to produce a podcast chronicling the experiences of essential workers during the pandemic, and Bradford Kimball '24 aims to compile a book on Brookline, his hometown, with summaries of documents from the town hall and interviews of locals, which he hopes will provide transparency on town affairs. This was the second time in the fellowship's nine-year history that three students have been granted the fellowship.
The Marina Keegan '08 Summer Fellowship, established in 2013 in memory of writer and advocate for social change, Marina Keegan, grants students funds to pursue arts or activism-related projects. Upper School (US) Fellowship Committee Member Beth McNamara appreciated said "the thoughtfulness of the three proposals coupled with the fellowships resources made it possible for there to be three grant winners this year."
"All three had detailed, thoughtful proposals that showed they already started thinking deeply about their intended projects and highlighted the students' personal connection to their work," she said. "The three proposals are deserving on their own merits and given the requests for funding and strong performance of the endowed fund, the Committee could support three fellowships," she said.
Sara's passion for aiding refugee children began four years ago when her mother introduced her to Newton- Brookline Asylum Resettlement Coalition (NBARC), a non-profit that supports
displaced families, she said.
"I was drawn in through my mom's interest but took it in my own direction through my focus on children; I love kids," she said.
Sara noticed that linguistic barriers make it harder for refugee children to thrive in the classroom. She already sought to provide educational support for refugee children with a book drive which she ran for NBARC. Hoping to have a greater impact, Sara asked for $600 to cover the cost of books and writing implements for English and math classes. She plans to lead the classes over the summer for ten elementary-age children. The classes, she hopes, will allow her pupils to return to school with confidence.
Sara also plans to invite a member of the school to read to the children once a week to foster a connection between the school and Afghan refugee communities, she said.
"I want the young Afghan girls to be given the chance to integrate or gain a relationship with people from the school to begin building their connections with communities in the US," she said.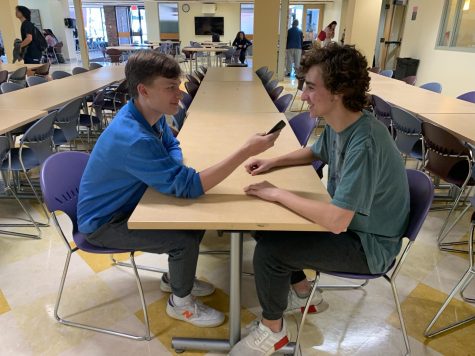 Liam hopes to examine the impacts of the pandemic, which he believes begins with understanding the experience of essential workers. Using his $65o grant, Liam plans to buy two microphones to conduct interviews with essential workers. He intends to publish a podcast on Spotify, with each episode focusing on essential workers from a different industry. Stories of essential workers from a variety of backgrounds and occupations will paint an evocative image of the pandemic, Liam said.
"Times of great societal upheaval, such as we've experienced over the past two years, accelerate change and reveal important truths," he said. "It is important to hear personal stories at a time when there is so much data flying around."
By asking the workers how government aid affected their lives, Liam expects his study will also allow him to examine the government's obligation to its people. Essential workers braved the worst of the pandemic to keep the nation running but received little compensation for their sacrifices; the government's treatment of them can reveal the tradeoffs it makes when protecting its citizens, he said.
"The goal of my project is to examine our social contract, implicit agreements made between people, through the lens of frontline workers during the pandemic. COVID has made people question their occupation and caused everyone, including the government, to think how to best help one another," Liam said.
Bradford believes his experience as an intern on political campaigns and in his State Representative's office will enable him to highlight Brookline municipal issues–information which is not readily available to the general public, he said.
"Most people, even those involved in government, don't have the time or bandwidth to comb through 100-page budget documents, so shorter summaries will make Brookline town politics more accessible," he said.
Bradford plans to use his $400 grant to buy software to assemble and print his book of summarized town records, transcripts of town halls, and interviews of politicians and residents.
He will also dedicate a portion of his funding to hosting events with local youth groups to promote and distribute it free of charge. Town hall meetings are a regular occurrence in Brookline, yet most residents who participate are in their 60s, not 20s, Bradford said.
"I hope the town halls will impact anyone with an interest in making a change at the local level, but especially young people, who can use their voice to make great changes in local politics," he said.
Previous Keegan Fellowship recipients and Selection Committee Members will provide guidance to Sara, Liam, and Bradford as they begin their projects this summer.