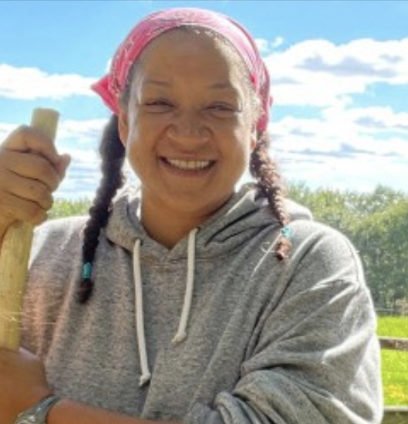 "Innovator" and "trailblazer" were two of the words the Barrows Family Master Teacher Chair citation used to describe its third honoree in its ten-year history, Upper School (US) English Teacher Alda Farlow. Indeed, for the past 17 years, Ms. Farlow has transformed the lives of the school's students both in and out of the classroom through her many roles, including US English teacher, Bivouac guide, EMPOWER student group advisor, and basketball coach. The award honors her "exceptional leadership in our Upper School community… She lends her voice and heart to every aspect of life at the Upper School."
The Barrows Chair was founded in 2012 to celebrate "an Upper School faculty member who has demonstrated leadership both in and outside of the classroom, excellent teaching skills, and mentorship with their students.
As one might expect from an English teacher, Ms. Farlow employed a metaphor to describe her work.
"My teaching philosophy has evolved over the years to mimic that of a gardener: provide the enriched soil each plant needs, use patience and curiosity in getting to know the needs of each plant, and figure out what each plant needs to thrive in my garden," Ms. Farlow said. "A gardener knows that sometimes we need to change our methods and strategies if they didn't work in the prior season. The joy of learning surfaces after we have earned each other's trust and respect. If I've done my job well, learning is fun, challenging, and rewarding, like gardening."
As part of the gardening process, Ms. Farlow tends to the emotional needs of her students. Students, advisees, colleagues, friends, and family members have told Ms. Farlow that the reason they consult her for advice is because she listens attentively to them.
"I believe that giving a student my time in their moment of need is a privilege, not a burden; therefore, I will stop what I'm doing when a student pops into my office, or I will stop if I'm walking down the hallway and see someone in need," Ms. Farlow said. "I've been told that my advice feels 'real' because I don't give each person the same advice, rather, I listen and work through the issue with that individual. And, when I don't know what to say or what piece of advice to give, I say so. Sometimes, just being quiet in someone's presence is the perfect antidote."
Watching her students blossom brings her fulfillment, Ms. Farlow said. "I cannot think of a job that is more perfect for me because, though I'm a bit introverted, I love to soak up the energy of so many interesting young people," Ms. Farlow said. "I rarely feel like I'm the 'teacher.' Each year, I get to work with a new crop of students, and I am continually inspired by my experiences with the wide variety of humans in our community."
Ms. Farlow said she is grateful to see the extent to which the school community values her contributions.
"I feel appreciated and respected for just being who I am; I rarely seek the spotlight, but I'm deeply thankful for the recognition," she said.
One of the aspects of Ms. Farlow's work, highlighted by the award citation, is her uniquely-close relationships with her students. Emma Osagie '24, an advisee of Ms. Farlow's, attested to this.
"After returning from my semester away last fall, I had a hard time adjusting back to BB&N, and Ms. Farlow was there for me every step of the way," Emma said. "She advocated for me and reassured me that things would get better."
In addition, Ms. Farlow has served as a beacon of support for countless students of color like herself, Emma said.
"She has helped me and so many others over the years learn how to navigate being Black in a predominantly-white space such as BB&N. I can't imagine BB&N without her."
Nnema Epee-Bounya '24, a former English 9 student of Ms. Farlow's who also took Ms. Farlow's African American Literature Elective her junior year, said Ms. Farlow instills in each of her students an appreciation of their self-worth.
"The most valuable thing I took away from her class academically wasn't necessarily a skill, although she definitely taught me many of those," Nnema said. "She made me more confident in my writing skills and urged me to trust my gut."
Ms. Farlow's love of the course material inspires similar passion for it in her students, Nnema said.
"I love her infectious passion about the books we're reading and the historical figures we are learning about," Nnema said. "It definitely makes you more excited about the material."
It's almost as if Ms. Farlow is able to read her students' minds and emotions, Nnema said. Ms. Farlow's classes are equal parts laughter and productive conversation.
"She is incredibly honest and treats us like peers, which is a rare quality to find in a teacher."
US English Teacher Sharon Krauss said Ms. Farlow is just as beloved among the faculty as she is among students.
"I highly respect, value, and enjoy Ms. Farlow—she's knowledgeable, insightful, generous, hardworking, creative, inquisitive, and fun to collaborate with," Ms. Krauss said. "Let me put it this way—if the ship is sinking and the waters are shark-infested, I'm getting in Ms. Farlow's lifeboat."
Another arena in which Ms. Farlow has left hermark is the Bivouac program. Bivouac Director David Strodel '78 said Ms. Farlow, who was raised in a large farm household, is naturally skilled at setting the tone of "squad as family" at the outdoors program.
"Her ability to shape the experience of her own squad of ninth graders, but also to impact each squad through the juniors guides, has been tremendously important," Mr. Strodel said. "I know that I speak for many of those on staff, and the generations of JGs who have gone through the program, when we say how much we value our friendship and working relationship with Ms. Farlow."
The Bivouac team is lucky to have Ms. Farlow, Mr. Strodel said.
"Her recognition as a 'master teacher' extends beyond the classrooms at BB&N in Cambridge to her amazing impact in New Hampshire at Bivouac." Ms. Farlow invests boundless energy in the success of the school's
students, Mr. Strodel said.
"She has high standards but pushes herself more than she ever asks of others."