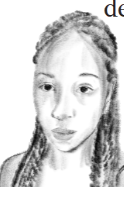 It seemed that we were all captivated by Jordan Peele's "Get Out," mainly due to Daniel Kaluuya's multi-layered character, Chris; audiences everywhere were struck by the movie's haunting plot. The blockbuster psychological thriller bothbroughtattentionto America'scomplicatedrelationship with race and opened many doors for Black storytellers to enter the horror genre. With more opportunities arising for Black directors to create stories that examine traumatic Black experiences in America, viewers and film critics have begun to discuss the importance and harm of Black trauma films as they become increasingly prevalent in our culture.
Some of you may be wondering: what exactly is a Black trauma film? Although there is no specific definition, I would characterize it as a movie whose central plot revolves around the violence and trauma many Black people face in this country. Black trauma stories can be of any genre, with a few examples being "12 Years A Slave" (2013), "Antebellum" (2020), and the TV show "Them" (2021). Most Black trauma films, with the exception of "12 Years A Slave," are written and directed by Black creators. One constant among these works is to use filmmaking as a creative outlet to convey the Black people's experience. These kinds of movies can be extremely impactful and eye-opening for viewers of all backgrounds—I have been moved by many well made movies that focus on the terror plaguing countless Black lives. For example, "12 Years A Slave" was one of the most touching films I have ever seen, and everyone should watch it at least once. But with the recent popularity of movies that center around this difficult topic, it's important to be aware of when these movies are educational and artistic representations of the Black experience, versus when they're gory and voyeurist depictions that re-traumatize audiences. This
paradox many have recognized but failed to solve—pinpointing the moment when a movie goes from eye-opening to exploitative, using Black trauma as entertainment value–is no easy task.
I have thought a lot about what makes some movies feel like offensive reenactments rather than thoughtful representations of the Black experience, and although much of it is subjective, I believe the difference lies within fleshing out characters along with the filmmaking itself. Developing realistic and nuanced characters humanizes the story, which many well made films prioritize rather than gore and violence. "Get Out" spends a significant amount of time creating multi-faceted antagonists and examining their malicious motives, making the movie feel more thoughtful and intentional.
"Till," released in 2022, retells the murder of Emmett Till, specifically focusing on how his mother, Mamie Till, used the event to force Americans to reckon with the racist society they were complicit in. In the movie, the director, Chinonye Chukwu, purposefully does not let the viewer see 14-year-old Emmett's murder, instead leaving an intentional absence with the camera's watchful eye outside of the barn. While she made an attempt to keep the film from crossing the line and creating a spectacle of the horrific event, many still feel that the movie, and many others like it, cause more harm than good.
Revolving around the center of Black trauma media lies the question: where are the Black joy stories? I have found that most of the films and shows I turn to in order to mindlessly enjoy a story do not have any Black characters, let alone Black protagonists. One of my favorite TV shows, "Moesha" (1996-2001), centers around a Black high school girl dealing with her family, friends, and school. "Girlfriends" (2000-2008) is another one of my go-tos, an ensemble sitcom about a group of Black women navigating one another and life in general. Both of these shows are great examples of the kind of stories largely missing from today's entertainment landscape—they allow an audience to see true, realistic narratives of Black joy. Of course, they did not try to omit or censor the hardships that come with the Black experience, but they were positive stories about multi- dimensional Black women (for the most part) succeeding.
"Moesha" and "Girlfriends" are two examples of balanced and uplifting stories that many feel we are losing when prioritizing Black trauma stories. Creating a balanced narrative that not only pushes viewers to confront race's history but also offers well made, uplifting examples of the Black experience calls for a variety of stories, a facet of Black filmmaking which must be improved. While Black trauma films are necessary to our society, we can't let trauma become the only heard Black experience.