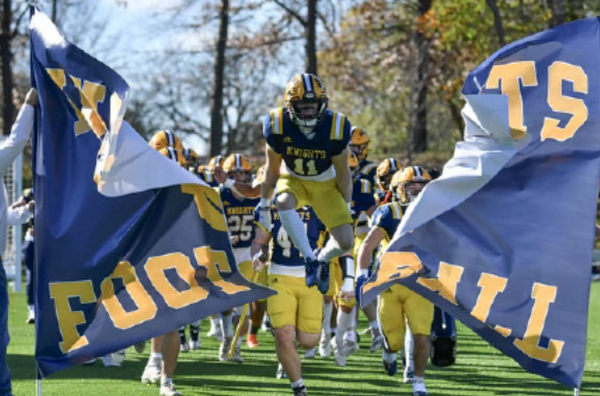 Late in the fourth quarter of the Boys Varsity Football game against St. Sebastian's on October 16, 2021, the score was tied. Battling an imposing offense, the school's team's defense struggled to hold the line.
In the stands, former National Football League (NFL) player Isaiah Kacyvenski Sr., the father of the team's captain and cornerback, Isaiah Kacyvenski Jr. '23, watched his son breathlessly, Mr. Kacyvenski said.
"I get more nervous for games at BB&N than I did for the Super Bowl," he said.
As the ball sailed towards St. Sebastian's nimble slot receiver, Isaiah raised his arms, just early enough to block the pass and prevent a potential touchdown.
Mr. Kacyvenski pumped his fists in the air. "I get intense on the celebrations," Mr. Kacyvenski said. "That was a very proud dad moment."
A field goal and a pick in the end zone later, and the school had won the game.
Mr. Kacyvenski has attended every game his son has ever played and cheered him on with equal enthusiasm at each one, Mr. Kacyvenski said.
"I've never missed a game. Wouldn't miss it for the world."
In addition to his love of football, Mr. Kacyvenski shares his auburn hair, work ethic, and name with his son. Both captains of their high school football teams, both Harvard football players—Mr. Kacyvenski a former one and Isaiah a commit— and both replete with positivity, each is a near mirror image of the other.
But for all their similarities, their early lives differed markedly. While Isaiah has never known housing or food insecurity, his father endured poverty and even spent stretches of time homeless during his childhood.
"For a long time when I was little, I felt a lot of shame for not having much at all," Mr. Kacyvenski said. "I was made fun of as a kid for wearing the same clothes to school every day, not having money, all the different aspects around that."
Football was "a source of power" for his 9-year-old self, he said.
"I remember playing for the first time and realizing I was good at hitting people and tackling people," Mr. Kacyvenski said. "I loved it. It was an outlet: just being able to run and feel carefree. I never let anyone take that from me, the pure joy of playing the game."
Football altered his status on the playground and in life, Mr. Kacyvenski said.
"I went from being the kid who was made fun of to being the first pick every single time we're gonna play football, but never forgot what it felt like to be that kid that was made fun of. Even in the NFL, where it's a brutal business, I always protected that 9-year-old kid inside me."
His talent as a linebacker led him first to Harvard, where he played four years of varsity football from 1996 to 2000, and then to the NFL, where he played for the Seattle Seahawks, St. Louis Rams, and Oakland Raiders between 2000 and 2007. In 2019, he founded the venture capital firm Will Ventures and today he offers motivational speaking engagements.
"I realized my story could really help a lot of people," Mr. Kacyvenski said. "Sharing that with other people to let them know that there's paths to make it out and you can define and control your own destiny."
Accordingly, Mr. Kacyvenski did not pressure his son to pursue football, he said; Isaiah's destiny was his own to mold.
"The only way to do it is not by me saying anything, but figuring out what he wants to do and figuring out what he's going to be passionate about, and letting that just unfold," Mr. Kacyvenski said.
However, football became Isaiah's passion too, Isaiah said. Although their childhoods were vastly different, the stories of Isaiah and his father converge on their love for football.
Isaiah's love for the sport was born when he was 3 years old, watching the Super Bowl and Harvard tailgate games from the vantage point of his father's shoulders.
"I was thinking, 'wow, that's awesome that you get to go out there and hit people as hard as you can,'" Isaiah said.
The pandemic, "a blessing in disguise," launched Isaiah's football career, as it provided him the time to begin a six-day, intensive training regimen and hone his diet, Isaiah said.
"The pandemic was a terrible thing," Isaiah said. "At that time, I was isolated from everyone. Football was an outlet for me because I felt alone at that time. I couldn't see my friends as much. And I started to fall in love with the grind."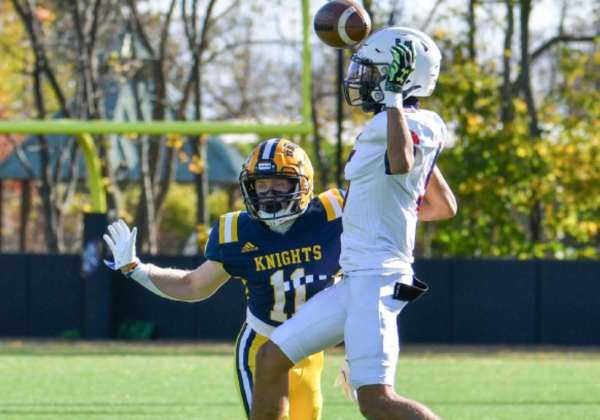 His father, "my own encyclopedia," Isaiah said, was his first coach, both on and off the field.
"During COVID, a lot of my basic knowledge came from my dad. He would tell me a lot of pointers and tips all the time. I could ask him any question and he could answer it," he said.
He also owes his positive mindset largely to his father, Isaiah said.
"No matter the situation, my father taught me to see the glass half full rather than half empty," Isaiah said. "Another big thing is instilling hard work, no matter what the circumstances are."
That mindset and work ethic served him well when he left Lawrence Academy and entered the school for his junior year, "the hardest year of my life," Isaiah said. The school's workload coupled with football practices, including a 6:30 a.m. one every Wednesday, demanded discipline, Isaiah said.
"Jumping into BB&N junior year, right after COVID, I was able to fall in love with the grind. There would definitely be long nights of homework after practice. There would be tiring days."
Isaiah credits Boys Varsity Head Coach Mike Willey with his development as a player over the last two years, Isaiah said.
"Coach Willey has helped me tremendously through the process and without him I would not be where I am today," Isaiah said.
Other school coaching staff, including Isaiah's position coach Davidson Bartholomew, were also instrumental in improving Isaiah's defensive back skills, ball skills, and speed and strength, Isaiah said.
Thanks to his training, Isaiah finished his 2022 season with 15 receptions in 289 yards, three touchdowns, three deflections, and three interceptions.
He recorded those three interceptions–a considerable feat in a league where the best players record three or four interceptions in an entire season—in a single game against Lawrence Academy on November 12, 2022, Isaiah said.
"I did not get a single interception the year before," he said. "I had just been waiting for my chance to literally catch at least one ball— at least one ball—and that game I caught three interceptions. I was super fired up, and I was so happy."
Among the highlights of his two-year career, the moment he batted away a ball from the St. Sebastian's slot receiver is foremost, Isaiah said.
"It was a pivotal moment for me. I remember being super pumped up."
Despite his success, Isaiah makes sure to emulate his father's humility, Isaiah said. "
The biggest thing for me is perspective and putting yourself in another person's shoes that don't have it as well as you: trying to treat everyone with respect."
Reflecting on his two years on the school's team, Isaiah said its camaraderie is unparalleled.
"I have loved every minute of it. The team aspect of football is like no other sport. Everyone has each other's backs. I know anyone that plays with me would run through a wall for me, and I know I would do the same for them."
Isaiah's empathy and strength of character have made him an effective team leader, Brian Brennan '24, who has played varsity football alongside Isaiah for the past two years, said.
"He's a quiet leader. He's a lead-by-example kind of guy. He's always doing the right thing, making the right plays. All the young guys look up to him because he just knows what he's supposed to be doing. The guys rally around him."
The team's core values are hard work, accountability, and mental and physical toughness, Coach Willey said.
"Those three things he is to a T."
Coach Willey marvels at Isaiah's dedication, he said.
"He's a tremendous hard worker. As a player, he came to us as a very good athlete, who maybe needed some polish in his footballplaying skills. And I think he knew that, and he really took to that. He wanted to get better, he wanted to take coaching, he wanted to get developed, and that's exactly what he did."
As Isaiah follows in his father's footsteps to play football at Harvard in September, Coach Willey said, great things are in store for him.
"I hope he just becomes a successful young man, and there's a high probability of that happening because of who he is. My hope is that he just keeps doing what he's doing and keeps approaching life the way he does. If he does that, he will be nothing but successful."