Rahdin Becomes a Nobles Student for a Day
I never thought I'd be saying this, but I transferred to the Nobles and Greenough School. Well, kind of. After months of planning and correspondence with The Nobleman, Nobles's newspaper, I finally pulled into the suburban prep school's parking lot on October 11. I was immediately greeted by Nobles senior Chris Tillen, their editor-in-chief, who led me to the renowned Castle for my first stop of the day: The Nobleman's editorial breakfast, complete with French toast, an omelet bar, and practically anything else you can imagine.
There, Chris introduced me to the editorial board before sitting down at the round table and leading the meeting like a boss. He went through their running spreadsheet of ideas, promptly assigning each writer articles. The meeting was smooth and fast-paced, at least until the loudspeaker startled everyone with a reminder of their daily all- school assembly in 10 minutes.
During our relatively long walk to assembly, Chris passed me over to the student I would be shadowing for the remainder of the day: Joshua Levine. I already knew Joshua a little bit—I played him in squash last year in our match against Nobles and lost miserably. I was embarrassed to show my face, but thankfully things weren't too awkward. And even crazier: He was wearing a green quarter-zip and tan khakis—a dress-code-obeying version of my green hoodie and tan sweatpants. We were practically the same person!
Joshua led me the rest of the way to their massive auditorium. It housed the entirety of their middle school, upper school, and faculty populations, and they still had a little room to spare. What shocked me most was their strict rules, like their assigned seats and the extreme prohibition of devices.
I must commend Nobles for the organization of their assemblies. Led by their head of school and student body co-presidents, the assembly was engaging and brief. It was broken up into three main parts: a teacher informed the school about an optional upcoming trip to the Idaho Salmon River, a teacher spoke about Indigenous Peoples Day festivities, and a panel of LGBTQ+ faculty shared their experiences.
After assembly, I attended four classes, each 50 minutes long. After I picked up my visitor sticker, Joshua took me to AP European History, where we—well, they—discussed the Protestant Reformation. The teacher warmly greeted me as I searched for an empty seat at the round table. The class was very quiet, and everyone was on their computers, so I pulled out mine to blend in.
AP Chemistry was a whole different story. The teacher and students were filled with energy. Students made jokes with one another, talking and laughing through most of the class. The teacher told me they're usually focused, but I suspect it was a cover up. She put me on the spot a few times too, using the fact that I was documenting the class as a means to get them to behave.
Here's a flick I took in class: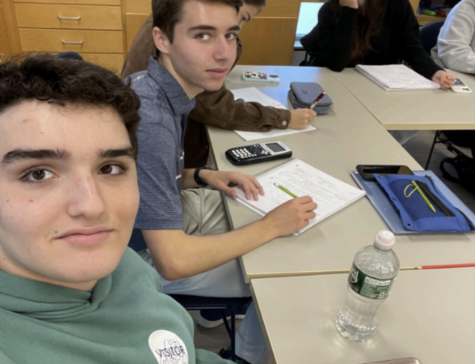 Toward the end, the teacher offered to email me a video of the class on a day I wasn't there so I could see what they're really like. I took her up on the offer, but I haven't received anything… yet.
Taking a short break from academics, I rejoined Chris for the chamber choir. Everyone was arranged in a semicircle, so I hopped right in the middle. Never having been in a chamber choir before, I was ecstatic to take part in their vocal exercises. "ZOOM ZOOM ZOOM ZOOM ZAHHHHHH," we kept screaming at different pitches. I peeked over at another student's sheet music, and it was filled with doodles and tic- tac-toes. "Sometimes we get bored," he whispered to me. Understandable.
On our way to the Castle for lunch, Chris handed me back over to Joshua. The line was packed—even more than BB&N's. But the BeReal went off, which made up for it. I took mine and posed for a bunch of other students before picking up a hamburger, some broccoli, and a glass of chocolate milk. Classic. I ate with Joshua at a table as we exchanged our thoughts on our respective schools.
"So, what do you like about BB&N?"
"Great people and very accessible to the city. What do you like about Nobles?"
"Great people as well."
We spent the rest of the free block in the library. I was impressed by how complex and modern the library was. It was split into different sections, including a Quiet Room just like ours!
The day ended with AP Calculus BC. The students in that class had high praise for their teacher, who has apparently discovered the planet HD 100546. They called him a genius, and after that class, it was hard not to feel like I'm one, too.
The day was eye-opening—the similarities were endless, but so were the differences. Of course, the kids at both schools are driven and motivated, but that was to be expected. The main difference was the extensive campus and facilities. Overall, Nobles provided me with a friendly and welcoming environment. I'm glad I could make some friends (shoutout Joshua and Chris), and I hope to be invited back very soon. One day was definitely not enough to explore everything!