Industry icon takes back her crown
Taylor fights misogyny one record at a time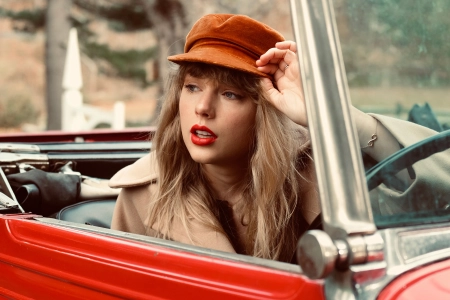 Taylor Swift began her career as a cowboy-boot- wearing, windblown-hair-flying country artist, quickly rising through the industry's ranks—and the Billboard "Hot 100" music charts—to earn her title as a verifiable superstar across multiple genres. She succeeded in translating her talent across various music styles while keeping her footing in everyone's playlists.
But look up her name on any search engine, and you'll find countless pieces opining on her character.
She's either dubbed "overrated," "boy-obsessed," and "greedy," or "over-criticized," "dynamic," and a "feminist icon"—how did she get to her oh- so-controversial seat in the top tier of the music industry? And where did this divide come from? The music industry often manipulates the success of young stars just as they facilitate it. Taylor is a case study for this dynamic, which saddled her with a split perception in the media.
Nearly two decades ago in Nashville, Taylor's display of talent in a cafe showcase urged DreamWorks executive Scott Borchetta to sign her in 2004 with his new label, Big Machine Records. Two years later, she made her music debut with "Taylor Swift," a love- story-ridden country album.
The singer has gone on to experiment with three different genres and release eight more albums of new music: "Fearless" (2008), "Speak Now" (2010), "Red" (2012), "1989" (2014), "Reputation" (2017), "Lover" (2019), "Folklore" (2020), and "Evermore" (2020).
"Red" marked the transition between her country and pop styles, while in quarantine albums "Folklore" and "Evermore," Taylor shifted to an indie-pop style.
After nearly two decades in the industry, Taylor has made her mark on many teenagers, including those at the Upper School.
"I really feel like her music is part of everyone's childhood," Will Benjamin '25 said.
The public controversy around Taylor Swift rose after the release of "1989." With the overwhelming success of the album came waves of harsh criticism.
After five albums listing tons of (insanely successful) love songs, critics argued that Taylor was always "playing the victim" and only sang about her exes because she didn't have the talent to do anything else. Upon a quick search online, you'll even find people calling her music "basic white girl songs."
Fans took a starkly different side, indignant to what they saw as unwarranted hate for timeless, genre- less, talented artist.
Alana Kramer Gómez '23, although not an avid Swiftie, said she agreed the hate for Taylor was unwarranted.
"I feel like she's over criticized because she's constantly being watched: like, 'Oh, you have so many boyfriends and 'Oh, who are you going to go home with tonight?'" she said. "She deserves to live freely without judgement, but obviously that doesn't happen."
In 2016, this pattern of Taylor-hating reached a new high when Kim Kardashian took to Twitter to brand Taylor as a "snake" amid Taylor's feud with Kanye West. This quickly caught on, with Taylor's social media being flooded with snake emojis and the #TaylorSwiftisOverParty.
Taylor proceeded to remove all of her posts from social media and herself from the public eye.
In 2017, she made her comeback with a series of suspenseful videos of, well, snakes, which were used as symbols throughout the entire "Reputation" era of her reclaiming her publicly defamed-image.
By the end of "Reputation" era, Taylor had fixed her reputation and received numerous accolades for her album and tour. But just as she got back on top, Taylor once again lost ownership of her "Reputation," this time including all of the music that led up to it.
Many don't quite understand the motive behind her new titles, branded with a seal of their creator's proprietorship: (Taylor's Version). Some might say that's implied, right? But the answer is far from that.
As a young artist, Taylor was looking to jump start her music career. When she first made her record deal with Scott Borchetta and signed with Big Machine Records, she lost rights of ownership to the music she created—so she did not own her first six albums.
In 2019, after Taylor had left Big Machine Records, Scooter Braun made a reportedly $300 million deal with them to purchase the rights to her music.
She was vocal about being left out of this deal and claimed that she was never offered the opportunity to purchase her own master recordings but rather found out from the headlines with everyone else. Braun publicly denied this.
"This is what happens when you sign a deal at fifteen to someone for whom the term 'loyalty' is clearly just a contractual concept," she wrote in a Tumblr post. "When that man says 'Music has value,' he means its value is beholden to men who had no part in creating it."
Since then, Taylor has been rerecording her albums so that she has ownership over them—so far, she's released "Fearless (Taylor's Version)" and "Red (Taylor's Version)."
(Taylor's Version) is more than just a silly little label. To the musician, rerecording means taking back ownership from a manipulative, misogynistic music monopoly that took advantage of her younger self for her talent. It's another move, just like "Reputation," that reclaims her art in a personal yet intentionally public way to challenge critics and the industry alike. As Taylor Swift rerecords her remaining albums, she will slowly regain control over her own music and the industry.