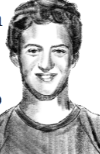 What makes a good song? Or more specifically, since I am focusing on lyricism, what makes a song well-written? Obviously, there are artists—like Bob Dylan—who immediately spring to mind when one mentions songwriting, but why? Anyone can write a fancy metaphor, or, these days, get a ghostwriter to write one for them. This begs the question: why do certain songs feel so beautifully written?
I find that the added variables of melody, voice, and tempo, which present their own emotions, need to match those of the lyrics in order to create a song that feels both authentic and beautifully written.
Comparing one song recorded by two different artists highlights this point. "Fast Car," most associated with the original songwriter Tracy Chapman, was recently covered by country star Luke Combs. Chapman sings, "Is it fast enough so we can fly away?" and Combs sings the same line. It is the same lyrics and the same song, but, to me, the desperation and literary strength that Chapman brings to the table with "Fast Car" is absent from Luke Combs' cover. The rich imagery loses its luster due to the disconnect between Combs' voice and his words. What makes Tracy Chapman's "Fast Car" truly great is the strong combination of emotions in the lyrics, the melody, and her voice (do give the live versions on YouTube a whirl; she brings it to another level).
Two songs from Morgan Wallen, a highly controversial country artist and not a personal favorite, reveal a similar trend
for me. The first, "Whiskey Glasses," deals with a double meaning; there are the physical glasses themselves and the visual impairment created by whiskey, blurring one's surroundings and senses, so that the narrator is looking through 'whiskey glasses.' The song illustrates heartbreak. Kevin Kadish and Ben Burgess, not Morgan Wallen, wrote the song, but it feels forced and unserious when backed by a catchy pop-country beat and sung by an off-the-shelf pop-country voice. There is no power in this literary element because it is not matched by the proper song, causing it to quickly fall flat.
On the other hand, another ghostwritten Wallen hit, "Sand in My Boots," conjures up emotions with its lines about a heartbroken young lover. Wallen's voice and the mellow melody of the song drip with the same misery that exists in the lyrics, creating a combination that produces a beautifully written song. Finding the correct fit for Wallen's voice, the authentic and emotional songwriting of "Sand in My Boots'' triumphs over the disconnected and inauthentic nature of "Whiskey Glasses."
Jason Isbell, a personal favorite of mine, pours his heart out to his wife in "Cover Me Up," an emotional testament to their love. The slow emotional tempo and strong metaphors about dams breaking leading to houses being carried like driftwood on powerful streams of water pair perfectly with the slow thumping drumbeat and Isbell's acoustic guitar. The authenticity that oozes from the lyrics matches that of the simple backing and production, creating a masterfully written song that plays on many emotions. Another example of Isbell's writing prowess, "Dress Blues" is written about a high school classmate who died overseas at war and falls into the same category as "Cover Me Up" in my mind.
Both of these songs are more widely known due to covers by mainstream artists: Wallen on "Cover Me Up" and the Zac Brown Band on "Dress Blues." These inauthentic, overproduced pop-country counterparts to Isbell's raw originals lose all their power for me (especially when Wallen, known for his drunken antics, sings "and I sobered up/I swore off that stuff forever this time"). Also, the lyrics don't match the Friday night football game aesthetic of Wallen's music and the Zac Brown Band's beachy feel. Without the original connection that Isbell brought to the table and demonstrated through the way he wrote the instrumental parts, the songs just aren't the same.
This trend reveals itself again and again as we visit conventionally well-written songs by famous songwriters. For example, the yearning of "Like a Rolling Stone" lies in Bob Dylan's raspy voice and youthful harmonica; Aretha Franklin not only demands "Respect" in her lyrics, but also in her powerful voice and melody; "Dreams" by Fleetwood Mac feels very much like a real dream; defiance rings throughout Tom Petty's "I Won't Back Down," and "American Girl" really does feel like a Friday night football game.
In my opinion, a well-written song cannot truly be realized without all the other musical elements. Great lyrics are nothing without melodies, harmonies, and an understanding of what different sounds make us feel. With all these extra ingredients contributing to the emotional power of music, songs have the potential to reach a higher impact than a book or poem, while simultaneously holding the more powerful threat of complete failure.