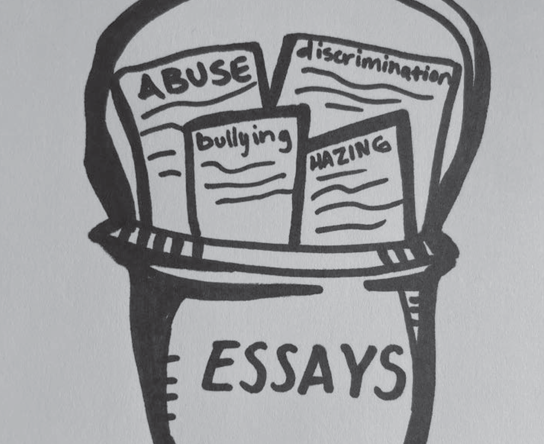 Every high school student applying to college feels the inevitable stress of coming up with a personal essay, which prestigious universities give just as much weight to as standardized testing, grade-point averages, and perhaps even extracurricular activities. We students struggle desperately with what to write and how to tell a "compelling story," as opposed to something merely featuring good grammar and style. The lack of instruction from file readers has plagued the system for many years, leaving even valedictorians and charity-starters tragically spurned by their dream schools simply because their essays weren't up to standards.
What actually makes a good personal essay, and how can we write one? Luckily, it has become obvious to those of us paying attention to what the admissions committee wants these days: a story, above all else, of unfiltered trauma. Students must capitalize on their own harrowing experiences. I propose a "National Trauma-Dump Essay Competition" for high school juniors.
Submissions will range from 500 to 1000 words and be judged solely by how much of a sob story they are. Judges will pay no attention to grammar, punctuation, diction, or wild displays of creativity, instead picking the essays that best embody recurring tropes of trauma-dump literature. Rigid guidelines will ensure that all essays dramatize one or more of the following experiences: dealing with the death of a loved one, managing a mental health problem, and navigating discrimination based on race, gender, sexuality, religion, or ability. While making up these narratives is not especially encouraged, there is no real need for fact-checking.
Judges will select 100 finalists and 1000 semifinalists; everyone else will receive a virtual badge of participation. Finalists will earn a guaranteed spot at their college or university of choice. The prize money will be funded by the application fee and by illustrious sponsors.
High schools with the greatest number of student finalists and semi-finalists will be ranked annually, with the committee personally honoring the top 20 schools. This type of interscholastic competition will no doubt push teachers to promote this type of writing in their curricula, and favor prep schools, where students will be more willing to hire tutors. In no time, schools will offer juniors an elective on crafting the personal-trauma essay.
Some readers may object that it's unfair to offer this opportunity only to 11th graders. What about the younger students? Freshmen and sophomores, too, may need two years to conjure up a tragic experience. Meanwhile, English teachers may assign personal essays in ninth and 10th grade with a highlight on the trauma-dump style so that, come junior year, the contest parameters are familiar and the idea that content matters over quality has become ingrained into the minds of adolescents.
The advantages this one competition can bring are incredible. First, drafting, editing, and then submitting trauma-dump essays will better prepare students for their CommonApp essay. (Winners might even want to recycle the essay.) Second, the competition will level the playing field for college applicants, so that all students are educated about the expectations of college-essay readers. Third, teens will learn how to profit from their traumatic experiences (instead of recovering from them in their own time), a skill that is incredibly marketable for the future. The contest will provide our generation with more authors who might one day match the talent of Colleen Hoover and Rupi Kaur, who have been able to glorify and poeticize their negative experiences with poorly written yet highly successful commercial novels. Students will learn the same—to commodify their experiences and prioritize tangible success over their own well-being.
At the end of the day, such a competition is the only possible way to ease the panic students feel when approaching the CommonApp essay. Since it is impossible to actually take pressure off of kids to trauma-dump in college applications, this would allow educators and administrators to feel more responsible, equipping students with the necessary preparation for senior fall. In the same vein, since creativity, originality, or command of style are no longer needed in the real world, this contest is necessary. Instead of challenging the status quo or demonstrating imagination through sharp technique, we must move forward into the real world and bend with the wind—or with the needs of college admissions officers and publishing industry leaders. Yes, it is time to reinvent trauma and reinvent literature so that students learn gradually how to take advantage of both… and change the world.