I define my fashion forward
"Five years later, standing behind the counter of the Brandy Melville store on Newbury Street, I have finally embraced my passion for fashion."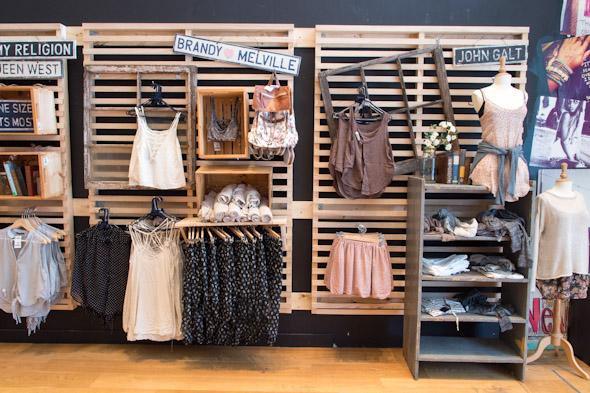 As I walked into the Lower School building, I had an extra strut to my step. It wasn't because I got a good grade or because the sun was out; it was because of my shiny red Doc Martens. Clad in my Abercrombie black skinny jeans and a Brandy Melville top, I felt fearless, as if I were defining fashion with every move. I approached my best friend in the halls of the sixth-grade classrooms, excited to show off my new boots, awaiting her reaction.
"It looks like a unicorn threw up blood on your feet."
Oh, sixth grade insults—gotta love 'em.
Suddenly the shoes, which had given me instant confidence, gave me instant embarrassment. I quickly thought of an excuse for my now grotesque shoes.
"Oh, yeah, they're my sister's. I couldn't find my Vans today."
My best friend stood there in her white Vans and ignored my excuse. I thought I was in the clear until a boy in our grade walked past us, and my friend said, "Look at Annie's boots!" As she drew extra attention to my shoes, I felt more ashamed that I had even chosen to wear them in the first place. When I got home after school, I tore off my bright, shiny, red boots and hid them in a basket, never to be worn again.
In the hours preceding my first day of work, I was overcome with nerves. As one of the youngest sales associates, I did not know anyone, but more importantly, I did not know what to wear. I figured that my outfit should all be from Brandy Melville, so I strategically decided on cream-white jean shorts, a flowered, cropped tank top, and Nike Air-Force Ones.
I walked to work, reassured knowing that I was not wearing my first choice of clothing, I would at least fit in with the other girls. Some of my new co-workers were wearing Brandy Melville clothing, but most were not, and they all had their own unique twist. Whether it was eccentric eye makeup, seven-inch platform boots, or homemade layered necklaces, each of them was wearing something that inspired me.
After seeing most of my coworkers not wearing Brandy, I could not help but ask my manager, "Do we not have to wear Brandy when we work?"
She informed me that the store was a space for everyone to express themselves through their style. We were free to wear whatever we wanted. The next day, I strutted into work wearing vintage, red Levi jeans, a striped top with an overlaying Varsity Jacket, and Mary-Jane shoes. My coworkers complimented my sense of style. It was not the compliments that gave me confidence to continue wearing what I wanted (although compliments are always nice.) It was the work environment that encouraged me to express myself through clothing.
There is no right or wrong in fashion, working at Brandy Melville taught me. While trends define what's "in" and what's "out," style and individuality work hand in hand. Although my sixth-grade classmates didn't appreciate my fashion efforts, their opinions shouldn't have had the power to impact my individuality.
Fashion is an art form. If Van Gogh listened to all of the critiques he received, his art would not be in The Metropolitan Museum of Art. I am the artist, and the clothes are my paint. I create a combination of colors, patterns and styles that form an outfit. In picking out my outfit every day, I'm choosing what I want my peers to see and what makes me feel like me.
Instilled with a sense of confidence in my individuality, I found that basket I'd hid six years ago, took out my buried shoes, and now I wear my shiny, red Doc Marten boots with pride.