Students take action with local initiatives
"I've been called racial slurs like
'chink,' 'ching chong,' 'dog-eater' —all
that really bad stuff," Leo Wang '24
said. "I just laugh it off, but inside, it
doesn't feel good."Leo is one of countless members of
the school's Asian American community
who have experienced subtle but
powerful racist microaggressions,
he said, and after years of receiving
hateful comments, he recently decided
to channel his anger and disgust into
helping spread awareness about anti-
Asian hate.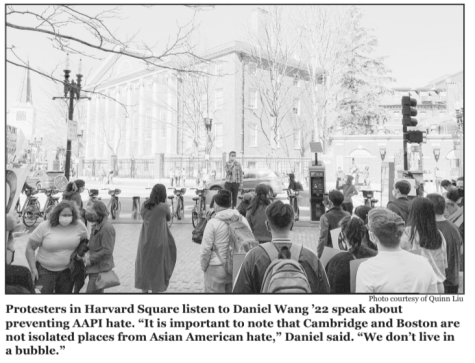 "Something needs to be done,"
Leo said. "It's not going to happen
through one right act. It's going to
take many years—you cannot dissolve
all this anti-Asian hate in just a snap
of the fingers. It takes many years of
educating young people to not commit
such microaggressions, hate crimes,
and jokes."
To that end, Leo and his mother
joined members of eight other towns
along the Boston Marathon route
where water stations for runners would
normally be situated.
This spring, many runners decided
to run the course even though the official
Boston Marathon was postponed. One
large group of runners chose to run
on March 27, Leo said, which inspired
the activists across the eight towns,
including himself and his mom, to
hand out water, chant, and hold posters
with messages like "Stop Asian Hate"
to spread awareness about the recent
attacks.
Students with social media accounts
could join the effort by sharing posts or
stories that help America wake up to the
problem, Leo said.
Lucas Liu '23 also underlined the
power of social media and said he has
used his own social media platforms to
address ways to help the Asian American
community and to educate others about
anti-Asian sentiment.
"Although I'm not really a fan of
Instagram activism and how people
repost things on Instagram because it's
not always the most deep—it doesn't
offer the most educated view—I still
think that we can use social media as a
platform to raise awareness," he said.
Lucas has also been talking
with friends about anti-Asian hate,
checking in with other Asian Americans
about their mental health, and, like
Leo, bringing his activism offscreen
alongside his mother, he said.
On March 27, in response to the
Atlanta spa shootings 11 days prior, he
spoke at a protest held by the Cambridge
Chinese American Association in
Harvard Square.
"I talked about how as an Asian
American, I have never really feared for
my life up until recently," Lucas said,
quoting the end of his speech: "Today,
and for all days going forward, we as
Asian Americans must fight against the
stereotype that says we are weak and
don't speak up; we must let all of the
world know that with our voices, and
with our passion, we will stop Asian
hate together."
Lucas' mother, who helped organize
the event and served as the master of
ceremonies introducing speakers, also
delivered her own 3-minute speech, as
did Daniel Wang '22, who addressed his
experience as the only immigrant in his
school and the only Chinese kid in his
grade as a younger student. What stood
out to Daniel, he said, was seeing over a
hundred people who showed up, among
them Madeleine Brodeur '23, CC Chung
'22, and Quinn Liu '21.
"That turnout and that support from
the community, that sense of hope is
one of the things that keeps me going,"
Daniel said.
Daniel added that live amplification
of Asian-American and Pacific Islander
(AAPI) voices is key to making change.
"For many Asian cultures, speaking
up is not something that is easy to do. It
is not something that is prevalent in the
culture. These rallies are important," he
said, "because if we don't speak up, no
one else will."
The event fostered connection with
the Asian American community, CC
said.
"Seeing so many people of all
different ages and all different races
was really positive. There was a lot of
solidarity there with people coming
together to protect a group of people
that I am a part of. It was very human."
Common perspectives of Asian
Americans must change, CC added.
"It is really important that people
stop thinking about Asian people as a
model minority," CC said. "That's not
the purpose we serve in other people's
lives. Hopefully, the rallies and all the
publicity are proving that we are done
with that. That is not what we are trying
to do anymore."
Quinn said he appreciated
witnessing non-Asian support, including
passing cars honking in encouragement
of the protest.
"It's incredibly great to see people,
not just Asian Americans but people
from all walks of life, supporting," he
said.
He also echoed CC's comments
about the need for Asian Americans to
prove the model-minority stereotype
wrong.
"Stand up for yourself a little bit
more," Quinn said. "Just because we
don't pick fights doesn't mean that we
are letting ourselves be disrespected."
Two weeks prior to the Harvard
Square protest, other community
members attended a "Stop Asian Hate"
rally organized by college students
on March 13. It began at the Boston
Common and eventually marched
toward the Massachusetts State House,
where almost 800 protesters called
on legislators to enact reforms that
increase law enforcement support
and to encourage more reports of hate
crimes against the AAPI community.
Dunia Sarkis, who attended the
rally with Sanya Goenka (both '22), said
the in-person experience felt rewarding.
"It was very empowering because
I felt that everyone there was in it
together, was there for the same reasons,
and was upset," Dunia said. "It just felt
like a community, even though Sanya
and I didn't know anyone there."
Dunia especially appreciated the
diversity of races and backgrounds at
the rally, she said.
"It's important that instead of
having our differences separate us, we
are able to come together. It's important
for us to support everything we believe
in rather than encouraging selective
activism," Dunia said. "The coming
together of people from all different
backgrounds is super important."
The active pushback against that
selective activism stood out to Sanya,
too, she said.
"There were a lot of Black and Latino
speakers who did a lot of work for the
Black Lives Matter movement back in
June," Sanya said, "and something that
really resonated with me was all of them
showing up and saying, 'If you showed
up for Black Lives Matter, you'll show
up for Stop Asian Hate, and we're all
going to stick together and protect each
other.'"
Several people spoke at the
rally, including Massachusetts State
Representative Aaron Michlewitz, who
represents the Boston neighborhood
of Chinatown, and "Cobra Kai" actor
William Lex Ham. Sanya said she was
taken aback by Melrose comedian Nate
Shu, who spoke about how he made fun
of his own race to build his career.
"He described how that was
normalized and then how he had the
realization that that was wrong," Sanya
explained. "He said once these hate
crimes started happening more often,
he took a step back and things shifted
into focus for him."
Sanya said her big takeaway from
the rally was summed up in "This is
what community looks like!"—a chant
the crowd shouted after the speeches,
when they marched with signs through
Chinatown to the front of the State
House.
"All these different people showing
up for one cause and sticking up for
each other is what community looks like
during the hard times."