French students converse with content experts
Upper-level French students visited with
a handful of creative local professionals
last month when AP French Language
and Culture classes welcomed acclaimed
author Claire Messud P'22, and French
5 (Honors), Culture and Cuisine in
Films and Fiction, spoke with La
Voile head chef Jerome Bergere,
French pastry chef Clarisse Maugis,
and chocolatier Palmer Berry.
As the French 5H course shifted to
project-based learning in the winter,
the class split into three groups,
each charged with interviewing Ms.
Maugis, Ms. Berry, or Mr. Bergere.
The goals of the project, World
Languages Department Head and
US French Teacher Cécile Roucher-
Greenberg said, were to connect with
advanced French speakers in French
and learn more about French cuisine.
Chloé Bancel '21 said interviewing
Mr. Bergere was a fun end to the class.
"He was very professional, and
he answered all of our questions,"
she said. "He also talked about what
leadership looks like in the kitchen.
He was clearly a really passionate
chef. That was really inspiring, being
so passionate about what you do
every single day even if you have been
doing it for years."
Bea Scanlon '21, who interviewed
Ms. Maugis, said talking with a native
speaker was difficult but rewarding.
"It's always cool to see someone's
experiences with a different culture,
especially one you have been studying
for years," she added.
Julia Maimonis '21 remarked on
Ms. Berry's story and the influence
of France on her personal traditions,
like making handmade truffles with
her son over the holidays, and on her
professional choices, like using only
ingredients that come from France.
"She also helped expand our
vocabulary by teaching us about the
specific techniques she used and
about the importance of patience and
attention to detail," Julia said.
Ms. Roucher-Greenberg noted Ms.
Berry's commitment to learning.
"Palmer doesn't come from a
professional background in cooking,
yet she knows so much about her
chocolate specialty. She is so thorough,
just like she is with French: she studies
what she loves to become an expert."
Meanwhile, the AP French classes,
having just finished reading Albert
Camus' "L'Étranger," hosted Ms.
Messud, whose family connections
to Camus' world led her to research
the novelist and write about him
in The New York Review of Books.
Like Camus, Ms. Messud's father and
grandfather were French Algerian,
and her father attended the same high
school as Camus, only 18 years later.
US French Teacher Pascale
Torracinta, who teaches one of the two
AP French classes, said Ms. Messud
was an especially good visitor.
In addition to discussing the
novelist's life and childhood during her
presentation, Ms. Messud shared many
documents, including photographs of
Algerian landscapes and pictures
of Camus as a child. She also talked
about the relationship between France
and Algeria in the 20th century,
using maps of European-controlled
territories—context that helped students
understand Camus' deep attachment
to Algeria, Ms. Torracinta said.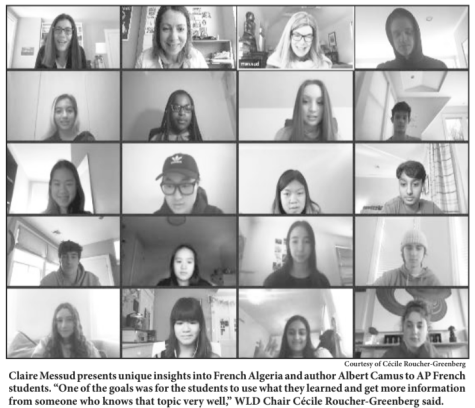 "I particularly enjoyed looking at
the pictures of Algeria she shared
with us," she added. "I was able to
better visualize certain scenes I had
read in 'L'Étranger.'"
AP French student Lucian Wood
'22, Ms. Messud's son, said he actually learned from the presentation.
"Her dad, my grandfather, knew
a lot about the region, but I didn't
personally, so it was interesting to
hear about society in French Algeria,"
he said.
Ms. Messud also showed the class
a rare first-edition of one of Camus'
earlier books, "Noces," that she
inherited from her father.
AP student Olivia Bancel '22 said
she enjoyed the visit. "It was a nice
way to see the story that we just
finished reading come alive."