Young alums build Five Fifths, a website featuring Black professionals
Co-founder describes vision as 'BET meets Bloomberg'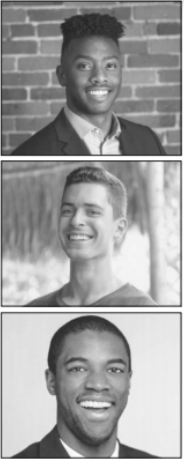 What began as an idea in the minds of Kyle Umemba '11 and Andre Joseph '10 is now Five Fifths, a website featuring extensive lists of Black-owned businesses as well as business news and interviews with Black entrepreneurs. In other words, and as the website declares, it presents "All things Black Business."
"It's a platform to kind of level the playing field and focus on Black business and Black professionals [and] Black entrepreneurs," Andre said. "I want it to be [Black Entertainment Television] (BET) meets Bloomberg." While the idea for Five Fifths sprouted in response to the election of Donald Trump in 2016, Andre and Kyle didn't act on it until George Floyd was murdered in May. Andre said it took him a weekend to process the murder, and the reality of the larger situation hit him full force at work the following week.
"That video was just a reminder that Black people aren't valued as much in this country, or we're just automatically viewed as a threat, which sucks. It's frustrating," he said. And so, a few days after the video went viral, Andre contacted Kyle to reconsider and create the Black businesses list.
Growing up and throughout college, Andre said, he struggled to find purpose because he didn't feel he had any professional role models who were Black.
"I think the reason for that was that the only Black people that I saw as successful were athletes or, you know, rappers or entertainers," Andre explained, adding that because of that he had wanted to play in either the NFL or the NBA. Part of the goal of Five Fifths, he said, is to shed light on successful Black people in the professional world and expose what Black people can do.
"We want to provide a platform that can be a support base for Black youth, Black professionals, [and] Black entrepreneurs," Andre said. "There are so many dope stories that can be told for people who are just getting started."
After connecting with Kyle through a Black Lives Matter protest Kyle organized in Chelsea, MA, Cam Woodsum '10 joined the Five Fifths project and built its website.
Andre said that in the beginning, the three of them joined a call to talk everything out.
"It was synergy. It just kind of fit perfectly," Andre said.
The group released the Five Fifths website on Juneteenth, the date the United States commemorates the end of slavery and a time the group deemed historically appropriate. The website features two business directories, one or Black-owned brands and another for Black-owned restaurants. Among the diverse selection is Flora & Curl Haircare, founded by Rose Ovensehi,
which produces plant-powered haircare products, and Baked Cravings, an award-winning nut-free bakery in New York City founded by Craig Watson.
Upper School Director of Athletics Chuck Richard, who once served as a Bivouac guide, said he knew Cam, Kyle, and Andre well when they were at the school and has stayed in touch with
them since.
"I would say they're three of your typical BB&N students, where they're passionate not only about sports but about learning," Mr. Richard said. "This is not a full-time job, this is just something that they're doing on the side—they all work full time. I think that they want our community to know that this kind of work is going on and that they're passionate about it. They just want awareness that this website is out there."
To view the Five Fifths website, please visit https://fivefifths.co/.