Hands-on science experiences shift to home
Collaboration is mental in the lab these days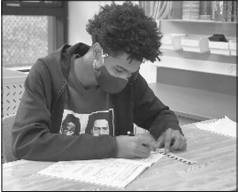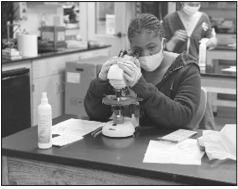 Upon the reopening of campus this fall, teachers faced new challenges in designing curricula for safe student collaboration. While English and math classes have been almost business as usual, the school's hands-on science courses have had to
pivot significantly. Through numerous Zoom calls and leadership from Upper School (US) Science Department Head Rachel Riemer, the department came up with creative new ways to execute their traditional curriculum, US Science Teacher Mike Willey said.
Mr. Willey, who teaches Physics as well as Engineering Principles and Practices, said the group work and lab partnering that have been mainstays in the school's traditional education model have been challenging to replicate in the
hybrid model.
"We had to re-figure that out because you need to maintain social distancing even when you're in class," he said. "We are trying to avoid sharing materials as much as we can. We want to avoid the cleaning procedures you have to go through if you
are going to try to share materials."
The key to his engineering course's success, he added, has been the kits with prototyping materials—including cardboard, scissors, cups, tape, and manila folders—that he gave each student on the first day. For their first project, students
designed and built cell phone accessory prototypes, like cases or stands
Using the manila folder and some tape, Chloé Bancel '21 made a speaker.
"It is nice being able to work on my own time and be able to walk away from it," Chloe said. "I wouldn't be able to do that in a normal classroom."
With two remote classes a week, Chloé said, students have had to transform their home desks into building spaces and navigate an abnormal divide between classmates.
"It's the weirdest thing. I can't give someone a pair of scissors if they forget them," she said. "I think that's the biggest change for our class. We don't even notice how often we give someone a
pencil or go to help somebody at their desk. People always branch off from each other's ideas, and there's a lot of teamwork. You can definitely feel that that's kind of missing."
The physics team was also forced to modify labs in order to teach essential information safely, a move that has been especially critical for Gabby Blanco '21. As one of two seniors in the primarily junior class, she must Zoom into both remote and in-person classes to stay separate from the other grade cohort.
Performing labs through the screen has been difficult, she said.
"I am depending more on myself. It is much easier to ask questions in person than over Zoom [because] you don't have to go through the process of unmuting yourself."
Gabby added that learning apart from her classmates is surreal.
"Everything feels so separated. I wish that there was some way that we could all be closer than we actually are," she said. "Being in a class with literally one other person in the room makes it feel  unreal. We are in the same meeting but still have to use two different computers. It feels comedic, like the 'Boomer' comics—'Kids these days, always on their phones.'"
Even so, Gabby said, the current plan is better than not having school, and she now feels she previously took seeing the whole school together for granted.
"Despite all of its shortcomings, it's refreshing being among people outside my family and being someplace rather than home."