Chief learning officer to be connector-in-chief
Jed Lippard will mind the educational journey from Beginners through 12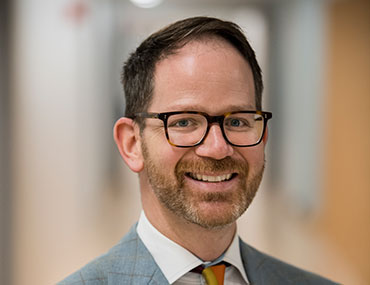 After a two-year process to define and fill the position, the school has secured a chief learning officer (CLO) in Jed Lippard, an experienced teacher, two-time former head of school, and published scholar whom Middle School (MS) Director and search committee member Mary Dolbear called a deep and reflective thinker guided by what is best for students.
Dr. Lippard is tasked with helping the school implement a holistic B-12 curriculum and with overseeing professional development of teaching and learning.
"As the director of the 'campus in the middle,' I am especially excited," Ms. Dolbear said. "We are all looking forward to partnering with Dr. Lippard to strengthen our curricular coordination across Campuses."
Head of School Jen Price said having someone on the senior leadership team who tracks a student's entire journey at the school is critical.
"The goal of the position is to create continuity and conversation between what a BB&N education needs from our Beginners all the way through our high school students, especially focusing on those times of transition, where you move from the Lower School to the Middle School and from the Middle School to the Upper School," she said.
Upper School (US) Director Geoff Theobald said working on campus cohesion has been sometimes challenging in prior years because the leadership team has always been in different locations, operating on different schedules.
"The ability to have somebody who can help us focus on the overall trajectory and arc of all teaching and learning for students throughout the school will be invaluable," he said.
He also praised Dr. Lippard's wealth of experience and spoke to the school's good fortune in hiring him.
"It's very clear that he is incredibly thoughtful and experienced in developing and sequencing curriculum appropriate for each level of the school and in supporting teachers in delivering that curriculum."
Dr. Lippard said his passion for education began at a young age. Growing up in Pittsburgh, PA, he attended Shady Side Academy, a pre-k through 12 school that prepared him well academically, he said, but did not offer the social and emotional aspects of education he discovered as a high school junior while visiting his cousin at the Lehman Alternative Community School in Ithaca, NY. There he found a unique and progressive perspective to education that didn't revolve solely around academic life.
"My school was quite traditional—all the students were sitting in desks and rows and facing the front of the room, [and it was] very much teacher-centered instruction [with] a lot of lecture-based learning," Dr. Lippard said. "At my cousin's school, it was very different. The students were squarely at the center of their own learning—all of the classrooms were set up in clusters of tables, and they had something called a Community Congress, where every member of this community—students [and] faculty—had an equal vote and an equal voice in policy decisions. It was a really, truly democratic school environment."
Through research, the young Dr. Lippard discovered that the Alternative Community School was a member of the Coalition of Essential Schools founded by Ted Sizer, a renowned education reformer. Before long, Dr. Lippard was studying a variety of creative teaching and learning methods with Professor Sizer at Brown University.
"Student-based simulations, Socratic Seminars, debates, role plays—those kinds of methods I think help surface deeper learning in a way that transcends a traditional delivery model of instruction," Dr. Lippard said, adding, "not that [the traditional model] is not important, but it's not the only way."
After graduating Brown in 1995, Dr. Lippard joined Professor Sizer as a founding teacher at one of the first charter schools in Massachusetts, the Francis W. Parker Charter School in Devens, where Dr. Lippard taught for six years.
During the summers of 2000 and 2001, respectively, Dr. Lippard served as a mentor teacher at the Brown Summer High School and at the Cambridge-Harvard Summer Academy before earning his master's in administration, planning, and social policy from the School Leadership Program at Harvard's Graduate School of Education. He went on to teach English at the Prospect Hill Academy Charter School in Cambridge before spending five years as its upper school principal and nine as its head. Concurrently, he returned to Harvard for an Ed.D. in learning and teaching and for a stint as an adjunct lecturer.
While in Cambridge, Dr. Lippard said, he began to admire BB&N and became intrigued by the school's effort to cohere its approach to curriculum across the three campuses. Now, having spent the past four years in New York City heading the Bank Street School for Children and overseeing Bank Street College of Education's children's programs—which serve hundreds of kids from diverse racial and socioeconomic backgrounds—he is eager to help support and develop faculty in realizing the school's goals for improvement.
"[I was] really compelled by the commitment to diversity, equity, inclusion, and also global education, [which] is very unique to BB&N, particularly at a time when there's a national and a global reckoning around issues of race-based inequities in our world and in our schools," he said. "So it's a challenging time, certainly, to be entering a new community, but I also find it really compelling."
DEIG Officer Leila Bailey-Stewart said part of Dr. Lippard's time will be spent working directly with her and other DEIG practitioners and students.
"I see him engaging and listening to our students, specifically students who identify in many different ways that are underrepresented at BB&N, and really being a listening partner for them," she said.
This fall Dr. Lippard will be overseeing the school's launch of the Knight Corps program. Knight Corps members, also known as Educational Support Associates, consist of recent high school graduates, college students and graduates, and graduate students who plan on aiding and supporting faculty members while coordinating on-campus and virtual activities and classes. The Knight Corps (see page 6) will also support students who are learning remotely and at Knight School, where students can access course materials remotely in the hybrid model at the school's administrative facility at 46 Belmont Street, Watertown. Additionally, they plan on aiding in-person student learning where teachers may be remote.
Dr. Lippard spoke to the Knight Corps' multiple roles at the school.
"In baseball, while some people play specific positions, utility players can plug in at any position. Under the current circumstances of COVID, the school has launched the Knight Corps to bring a cohort of utility players to BB&N," Dr. Lippard said. "Knight Corps members, or Knights, will be at all three campuses to support the institution's efforts to provide high quality teaching and learning and to ensure that all proper precautions are being taken around social distancing, mask wearing, handwashing, and so forth."
Dr. Lippard will be supporting and mentoring the Knight Corps members while introducing them into the profession of teaching and education at an independent institution.
"Mark Twain once said, 'Make your vocation your vacation,'" Dr. Lippard said. "I know a lot of people, friends and family members, who have to find meaning outside the context of their work because their work is just a job, but for me, my work is my passion, and I'm excited to bring that to BB&N."