Campuses rebuild community, together but distanced
New places and protocols require re-learning for all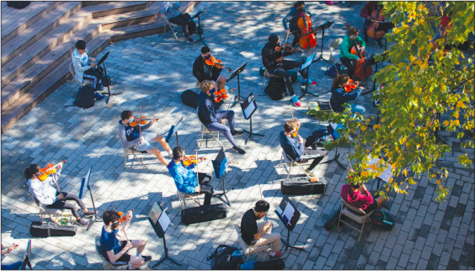 Fridays in the fall of 2019 meant the weekend buzz vibrating through the halls and the commotion of football practices drifting across the field. They meant clusters of students covering the campus, some waiting for the bus to Fourth Lot and others simply enjoying the company of their friends. But the scene at the Upper School (US) is different
this year. Face masks block the buzz, football has turned flag, and there isn't a bus in sight. Students emerge from the Nicholas Athletic Center (NAC) or the main building and wait, socially distanced,
to go home. School life has undergone several changes.
In addition to navigating one-way hallways and curtained-off classrooms, community members have had to adjust to a new definition of free time and a sense of re-learning.
With the upturned school routine, US Science Teacher Michael Chapman said his role now encompasses multiple jobs rather than just one.
"You have your classes that are in person, you have your hybrid students, you have the classes where you have a couple of students on Zoom; regardless of how you're teaching, it's a really interesting mix, and that [in conjunction] with all the other protocols really makes it feel like we are
doing three different jobs, three times the amount of work, for less output than we normally do," he said.
Grade 5 Homeroom Teacher Gabrielle Mbeki said this fall has reminded her of her very first month at the school.
"It sometimes feels like the memory I have of Day One teaching, like I'm starting all over again," she said. "You don't recognize how comfortable you get into your set routine until something disrupts
it. The same exhaustion that I felt my first year teaching I'm feeling now, almost 10 years later." English Teacher and Grade 11 Dean Beth
McNamara emphasized how everyone, whether returning or new, has had to adapt.
"It's the equivalent of being a first-year teacher in a school or a freshman in the school," she said. "There's just so much to remember. And now
everybody is in that situation. I'm starting year 20 at BB&N. I don't expect to have to think about which way I'm supposed to walk down the hallway
or what time B block ends. I'm used to knowing it, and everything has changed. And it makes sense that it's changed, but it's exhausting for everybody to be remembering that or trying to remember that all the time."
The idea of "free time" has also transformed, as new supervision and social-distancing protocols limit where and how it can occur during an on-
campus day. But despite how different scheduled down time now looks, Ms. McNamara said, it is now more important than ever.
"I would be disappointed in a normal year if a kid at BB&N answered 'lunch' when asked what the best part of school was. It just sounds counter to our primary mission," she said. "But lunch might be the best part right now, and I'm totally okay with that because it is actually human connections and people being together, and that's great."
Win Williams '30, who attends the Lower School (LS) in person, agreed that spending time with others on campus has been important and
enjoyable.
"We can still see each other and play with each other," she said. "It's better than having to stay home and be apart from your friends."
Being at school with friends while keeping a distance is difficult, though, Max Kerrigan '25, who attends the Middle School (MS) in person, said. "I
know a lot of the spaces are now used for classrooms and homerooms, so you can't go there because if you touch something and get COVID, then they have to close down the whole school instead of just one part of it," Max said. "So we don't have as much freedom."
Students have also felt a lack of togetherness during breaks, Tess Bierly '22 said.
"I was used to playing games with my friends during frees, whether it was playing cards or listening to someone play the piano or just kind of hanging out with everyone in a closed space," she said. "This year, that time looks very different. My study hall is relatively isolated—it's in the gym where everyone's 6 feet apart. So it kind of takes away the excitement and joy of free blocks, but it's still nice to have a break from Zoom."
Middle School Science Department Head Wendy Svatek said teachers were also feeling squeezed. "It is challenging to find pockets of time to have meetings with other faculty to talk about curriculum, to talk about student issues, to talk about all the things that you need to talk about as teachers, since we are all monitoring the mask breaks and helping to enforce the 6-foot social distancing," she said. "So there also ends up being less time to meet with students and connect with colleagues."
Lower School (LS) Director Anthony Reppucci noted how the focus of his work has narrowed.
"The health and safety guidelines for reopening school this year include a lot of time spent on logistics and protocols, where, in the past, there was only some time dedicated to logistics and protocols, but the majority of the time was really dedicated toward things that were geared toward teaching, learning, and community building," he said. "A lot of it was moving us forward as a Lower School, whereas this year, it can sometimes feel like a tunnel where we're just taking care of things on a day-to-day basis."
Despite the difficulties that have arisen this past month, Upper School Director Geoff Theobald said, he is so happy the school can share moments again.
"Trying to create some sense of normalcy in what is a completely atypical, abnormal scenario has been the primary focus in our return to school," he said. "The simple acts of being able to go to class or tackle homework, to enjoy a club or activity, or just to talk with friends and teachers about the day—none of these are extraordinary acts in and of themselves, but taken together, they still give that sense of comfort and familiarity we all have been missing. And I believe it is exactly these sorts of moments that will give us somemeasure of happiness in what otherwise continues to
be a very challenging time."