Debaters delight in top tournament win
'We all killed it,' co-captain reports
Last month, a half dozen members of the debate team made American history when they donned business formal attire, cleared their desks of homework clutter, and logged on to the annual International Independent Schools' Public Speaking Competition (IISPSC), held this year via Zoom rather than in British Columbia, where the 2020 event was originally scheduled.
Co-Captains Elise Hawkins, Jack Lichtenberger, and Alexi Melki (all '21) along with Julia Shepherd, Laura Cox, and Daniel Katz (all '22), all selected for the event based on their performance in an internal debate in the spring, together received eight out of the 10 possible awards.
Jack said winning the tournament was a shock.
"It's very surprising that we won, even though we are all quite talented, which is something that I want to emphasize," he said. "No American team has ever won this tournament, ever. It's not even like BB&N has never won. The eight or so American teams that have competed have never won. And then, not only that, but out of the top seven Americans, four of them were from BB&N. We had Alexi, Elise, Julia, and me. It's impressive to have one person in the top 10. It's not only that one of us did well— we all killed it."
Alexi, who took first place in the Individual Overall, won the persuasive speech category, and won the cross- examination debate with Jack, said he tried to use his experience to tailor his speeches to his audience.
"I knew what people were looking for in terms of judging. I had a better idea of what types of speeches
and arguments would be more successful, so I was able to morph my style to accommodate that, especially in persuasive speeches, where topics [were] very current and [something] an international audience can relate to," Alexi said.
He went on to describe two types of speeches: those that are very technical and specific speeches, and those with a more poetic and artistic approach.
"Over the years I have realized that being more artistic and creative tends to reward you more," Alexi said.
By placing first and being one of the top-ranking Americans, Alexi earned a spot on the U.S. team for the World Championship of Independent Schools Debate, which is scheduled for the summer of 2021 in South Africa.
"Last year I didn't qualify for any finals, and this year I qualified for two, and I was happy with just that," Alexi said. "So getting the results at the end was pretty baffling."
This year's event included remote adaptations, including the introduction of asynchronous categories, where competitors in Persuasive Speaking, After- Dinner Speaking, Interpretive Reading, and Dramatic Interpretation submitted speeches as pre-recorded videos. Elise, who placed third in the Individual Overall, said that despite the convenience this change supplied for participants internationally, the asynchronous aspect introduced challenges for the team.
"The persuasive speech, which is where you write and memorize a 12-minute speech and then deliver it, [had to be] recorded beforehand, and the deadline for that was two weeks before the actual competition started. Twelve minutes is about 2,000 words, which is hard by itself,
but because we were recording it, there was more of an incentive to deliver it perfectly. So if we messed up a line, we were more likely to redo it because we had the luxury of redoing it," Elise said.
Laura said she wished there hadn't been an asynchronous aspect to the tournament.
"One of my strongest skills is being able to present well on the spot," she said. "But everyone got to record [their speeches]. So even the kids who would normally lose points for their presentation got trial after trial to make sure they got it perfectly, when in the actual tournament they probably would have messed up or been scared. Our team is super comfortable with presenting— that's something that we usually do really well—so that was kind of tough."
Julia, who placed first in the after-dinner speech category, said another con with asynchronous delivery was that participants weren't able to learn as much from their opponents.
"One of the things that's most valuable about this type of tournament is the chance to watch other people who are really good at their events," she said. "This year, there wasn't as much of a chance to do that."
Daniel said bonding between participants was also nearly nonexistent, especially with the missed opportunity of traveling together internationally. Still, he added, the team rallied around the remote format and practiced together to prepare well for their individual roles.
"Probably the most memorable moment was the Monday before we had to submit videos," Daniel said. "We were all on a Zoom call until 11 p.m. Then we had some old captains from the year that I was a freshman join us and help us out. So that was a really good experience."
Talia Belz, Sophie Collins-Arroyo, Aurash Vatan, and Harry Golen (all '19) helped this year's debaters in their preparation. Former Debate Captain Sophie said she was thrilled the team could compete during the pandemic.
"They all worked so hard to prepare for the competition and have worked so hard over the past few years in general, and I think their success is a testament to all that work and their willingness to adapt to a totally new format," she said. "I'm so glad that the seniors,especially, got the chance to show off their talent and see all their work culminate in amazing performances and well-deserved wins."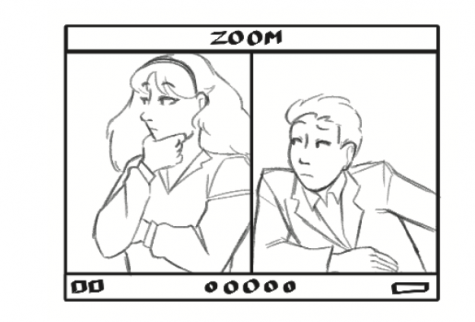 Head Debate Coach Sarah Getchell, who has mentored the team for the debate with the help of Upper School Theater Teacher Ross MacDonald while English department colleague and co-coach Zoe Balaconis has been out on maternity leave, expressed awe at the group's diligence and initiative given the potentially unmotivating circumstances.
"There's so much I could say about them. I am really impressed by how thorough they were in their preparation for this, even though it was online, so there was less pressure and less excitement," Ms. Getchell said.
Under normal circumstances, she added, the team would fly to British Columbia and spend a few days before the tournament on final preparations. At night, and in between events, the group would be in a conference room listening to each other's speeches and fine-tuning for the next round.
"They didn't get any of that," Ms. Getchell said. "So they had to be a lot more independent from me. And they still did an amazing job preparing and helping each other. So it's really a success for the whole team."