MUN bridges miles and years in first-ever online conference
New platform means new format and new social dynamics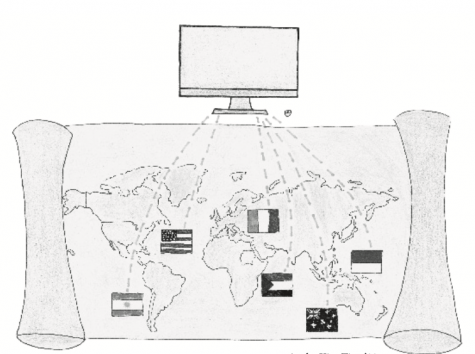 Over the first weekend of November, 10 Model UN (MUN) club members kicked off a unique competition cycle when instead of heading to Providence to join over 900 other students, they participated in the Brown University Simulation of the United Nations (BUSUN) over Gatherly, a virtual platform that allows users to "walk" around a room and move from group to group, mimicking a social event.
In preparation for typical MUN conferences, delegates are required to submit position papers to the chairs of their committee explaining the research they've done and potential solutions they have in mind. This year, however, BUSUN staff assigned committees and positions later than usual, only two weeks before the conference, and delegates weren't required to draft position papers at all.
Representing Saifuddin Aziz in a simulation of the Chinese Communist Party Politburo during the 1970s, Graham Bateman '23 received the Best Delegate award for his committee—one of 17 BUSUN offffered across three main categories: General Assemblies, CrisisCommittees, and Specialized and Historical Agencies.
While MUN conferences are centered around giving speeches and making arguments, they're also about visiting new places and meeting new people from across the world, both of which were diffifficult to do from home, Graham explained.
"Online you have less of an ability to form meaningful relationships with other delegates, so you don't get to know the other people in your committee as well," he said.
"In terms of actual committee sessions," Graham added, "the platform that we used worked extremely well, and I didn't struggle to write resolutions and get my points across."
Dhruv Padmanabhan '22, the other school award winner, who received an Honorable Delegate award for work on a committee about the Haitian cholera outbreak following the 2010 earthquake, agreed that Gatherly was helpful.
"The interesting feature of this software is the ability to choose the breakout rooms you want to go to, which allows blocs—groups of delegates with similar ideas—to have an easy way to connect," he said. "When we were talking during Moderated Caucuses, the individual speeches, we were all in one room where the chairman would be able to spotlight the delegate speaking, allowing us to see everyone's speech front and center."
MUN Co-President Abigail Rabieh '21, who portrayed George Pataki in a simulation of the Republican National Convention of 2000 on Saturday and Choe Ryong-Hae in a simulation of the North Korean War Cabinet on Sunday, said the online system created interesting new dynamics that changed some fundamental aspects of committee sessions.
"Usually you are passing notes all the time, and you're getting up to whisper to people, but now we could text and email directives to the whole committee," she said. "The debate was at a faster pace than I had ever seen it."
Abigail agreed with Graham that with technology came a lack of socializing.
"There wasn't any time to hang out with my friends because I was at home," she said. "So that was really weird—to fifinish the call and not have anyone to debrief the day with. I missed having the opportunity to meet with people from my committee outside of the session to work, and just the overall experience of being free to roam a new city!"
Still, she said, the conference was a worthwhile experience.
"Debate occurred, and it went well. And I think everyone gained more experience in the skills we try to
develop through Model UN—public speaking, creating resolutions, and quick critical thinking," Abigail said. "We still were able to discuss world issues and work toward solving them, which regardless of the other fun things associated with it, is what's at the core of Model UN."
In January, the club will attend its next conference, Yale MUN, also scheduled to take place virtually.