BVS bids farewell to friend and father figure
Head coach steps aside after two decades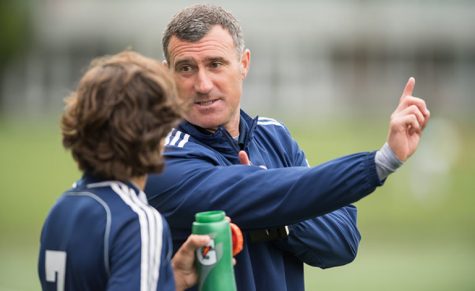 In 1992, when Middle School (MS) Math Teacher Jesse Sarzana '93 P'23,'25 was a high school senior playing on Boys Varsity Soccer (BVS), he helped the team win the Class B New England Championship and earned the '33 award, given to the best all-around athletes of each graduating class. Six years later, Mr. Sarzana returned to the school as a coach and has since guided BVS through 21 seasons. The 2020 season would be his last, he announced to the community late this fall, as his goal now is to focus on family.
"I went in full throttle, gave it everything I had, and enjoyed it," Mr. Sarzana said.
Mr. Sarzana assumed the head coach position in 2000, after serving as assistant coach and helping coach junior varsity for two years. His love for soccer drove his coaching ambition, he said, and he felt fortunate that former Athletic Director Joe Gill took a chance on him to lead the boys' program.
Mr. Sarzana spoke about his decades on the field with gratitude for
the assistance and friendship of many fellow BVS coaches, like former MS Spanish Teacher Jorge Senabre, former Associate Director of Admission Matt McDonald, Admission Associate and History and Social Sciences Teacher Kaeghan Kelly '10, and Patrick Metelus '05.
"They have all been great coaches, wonderful people, and superb role models for those students in our community," Mr. Sarzana said, adding a special shoutout to MS English Teacher and MS Boys A Soccer Head Coach Ethan Rossiter '93. "Rossiter has been a dear friend since our high school days when we graduated together from BB&N and were fortunate to be on a winning NE Championship team together."
Of the program's various accomplishments over the years, Mr. Sarzana said watching his players win the New England Class A tournament in 2004 was a standout.
"We were basically the number one team in New England. It's a moment I'll never forget," he said.
Mr. Metelus, who played on that championship team before joining Mr. Sarzana as his assistant coach for eight years, described the 2004 season
as his best experience as a young player. Having lost the quarter finals the previous year, he said, the team was hungry for victory and able to play their roles within the team to excel.
"It was the family atmosphere that Coach Jesse had created that made it possible for us to come together and rally," Mr. Metelus said. "We ended up going on an amazing run when nobody gave us a chance."
Mr. Metelus credited the team's success to Mr. Sarzana's intelligence and in-game tactics.
"He definitely knew how to get the best out of all of his players, including everybody in the first 11 to the last guy off the bench. He just knew, I guess, what buttons to push to get everybody's best come game day," he said.
Both then and now, he added, Mr. Sarzana went beyond the role of coach—as evidenced by his remaining in touch with many of his former players.
"He seemed like a father figure, like a friend. Anything you would really need, he would be readily available," Mr. Meletus said. "I've had so many different amazing experiences with Jesse. He's been a constant presence in my life, checking on me, my family, my kids. It's a friendship, I think, that will definitely last a lifetime."
Mr. Meletus is now an assistant coach for the boys' varsity soccer program at Thayer Academy.
Mr. Kelly, who played for Mr. Sarzana and now works alongside him as associate head coach of BVS, said their relationship sprouted when he was a student-athlete.
"We would be on the whiteboard together tossing out ideas, and I would tell him what I thought was good and not good, and we just had that straightforward, honest relationship always. And it hasn't changed since," Mr. Kelly said.
Mr. Sarzana's drive to win inspired him, Mr. Kelly said.
"I've always felt like I was a competitive person, but his level of competitiveness just superseded mine by a thousandfold, and that was just really helpful for me as a player to feed off of," he said.
Mr. Kelly said he believes many current players respect that Mr. Sarzana looks out for them and motivates them to improve, and that he taught him the power of engaging players in one-on-one conversations.
"You naturally sort of think that people see what you see, and that's just not the case at all. It's not the reality of how coaching or life works at all, and that was a naive thing that I [thought] as a younger coach," Mr. Kelly said.
"[Mr. Sarzana] is really good at finding [a player], having them for a 45-second conversation, explaining how he sees something, and then just drastically improving that player's ability to play the game."
Among the hundreds of players Mr. Sarzana has coached, many continue to benefit from such lessons. Malcolm Barclay '20, who captained BVS his senior year, spoke to the impact of one conversation Mr. Sarzana had with him after he'd consistently performed poorly in practices.
"He [said] that I was too caught up on how I was playing each week, and in order to play my best, he told me, I had to work for the team and enjoy it. 'We miss seeing you smile,' I think he said. Then the next game, he benched me," Malcolm said. "I was so pissed. I thought we had a productive talk, and now I'm sitting on the bench. The next game I scored my first BB&N goal and assist, and we won 4–1. I realized he wanted me to think about how getting upset with myself was only toxic, as it showed the team that I really only cared how I was playing."
Malcolm added that the team felt meaningful because of Mr. Sarzana.
"BB&N soccer means a lot to him, and it kind of rubs off on us. This is kind of cringey," he said, "but he is really what we think about when we think about BB&N soccer being bigger than just ourselves."
Diego Garcia '21 recounted his own Sarzana moment, when the coach changed his mindset about soccer.
"Sophomore year, I came here and thought I was the greatest player in the world. I'd yell at my teammates and get mad at every little thing. Then, junior year, I wanted to become captain, so Coach started pulling me aside after practices and told me that I had to change the way I was going about things," Diego said. "That really struck me. It changed my entire mentality of the game [and pushed me] to be more uplifting and motivating, and I truly believe that's what got me to be captain."
Diego added that he admires Mr. Sarzana's dedication.
"He was the only coach from the four [high] schools I was looking at who would come to my games and practices," he said. "When I finally came [to BB&N], his love and passion for the game and every single player, and his overall commitment for the team and the game itself, were pretty amazing."
Jack Pappendick '22 attested to Mr. Sarzana's care for players.
"I believe that the personal connections he has had with his players are more important than any coaching he has done. At the end of the day, it doesn't mean anything to be a coach if you can't touch and change lives, and he has definitely changed mine for the best," Jack said. "Sarzana saw something in me that I didn't see in myself—that I was going to fight for my team whether I knew how to or not."
Ted Pappendick P'20,'22, whose older son, Will, also played for BVS, commended Mr. Sarzana's mentorship. "Regardless of the role, Jesse has always focused first and foremost on developing character, on honor and kindness," he said. "For that, we are thankful."