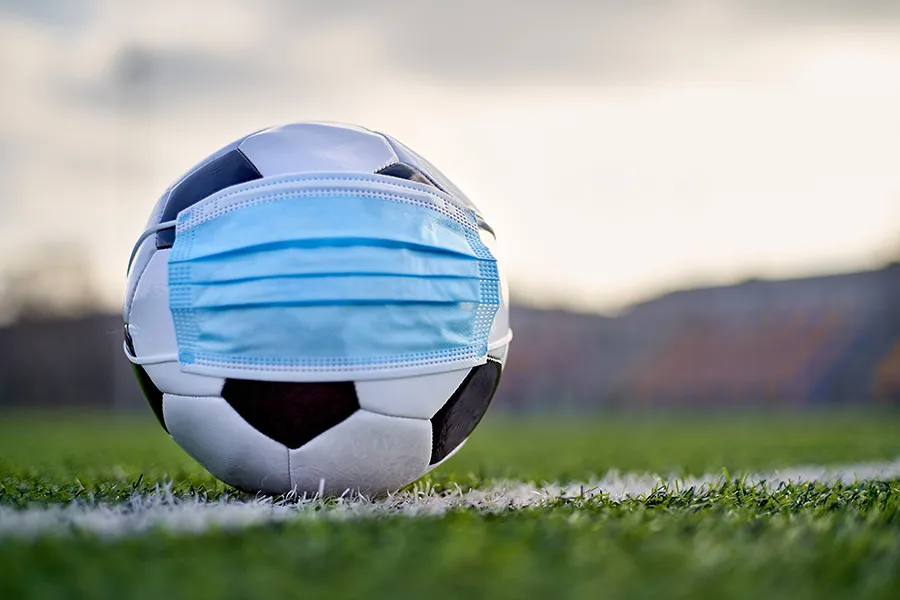 Masked, distanced, and with far fewer matches and games, athletes this year have seen seasons unlike any other. But according to Athletics Director Chuck Richard, signups for athletic department offerings have been higher than ever—a reflection, he said, of how crucial sports have been to students' social emotional health. "Last spring we were all home, we were all isolated, and being isolated is unhealthy since we're all social beings. Our students want to participate in athletics together," Mr. Richard said. "Kids want to be social with their classmates."
Now that our third season in a pandemic is underway, The Vanguard wanted to know: what have athletics meant to our community this year?
Although I was separated from my teammates for quite some time, I was still able to find that sense of security that sports offer. I knew that even if I was unsure of what the upcoming year would bring, the drive to work toward a goal would always be constant. Also, having missed out on many aspects of a normal season this school year, I learned to treasure the time that I have with my teammates and to appreciate the pre-game rituals, embrace the gritty practices, and cherish every game we play together.
—Girls' Varsity Soccer and Girls' Varsity Basketball Player Ava Venuti '23
I think that during this pandemic, it has become increasingly difficult to find enjoyment in school or things that are generally somewhat pleasant. I think athletics are inherently very fun and are therefore more resistant to the pessimistic mindset that has grown within me during COVID, so they've really served as an outlet for me. They've allowed me to remind myself of and even replicate the enjoyable experiences/feelings I had pre- pandemic.
—Varsity Wrestler and Boys' Varsity Crew Rower Alexi Melki '21
COVID-19 has helped me realize that every time I step on the field or ice, I need to take full advantage of the opportunity. You never know when moments like those can get taken away or if parts of your season will be gone in an instant. Savor the time with your friends, playing the sports you love. Just being able to go out there in the first place is a gift. The other thing COVID-19 helped me realize is that I need to focus on what I can control on and off the field or ice. One of the key ideas our lacrosse team has been using this season so far has really helped me: "Control the controllables."
—Boys' Varsity Hockey and Boys' Varsity Lacrosse Player Danny McNeill '23
As a new student, sports was one of the best ways for me to make new friends and meet new people. Sports also gave me more comfort and confidence at school because I knew I had a way to become engaged. With all the distancing and restrictions in school, the sports environment was a great environment to be able to easily talk to or interact with someone. Athletics have been an escape from all the stress and bad feelings that this year has induced. Having that part of my day I can always look forward to has made me much more positive, and a happier person.
—Cross Country and Track Runner and Varsity Basketball Player Hannah Bernstein '24
Athletics have been very important during COVID-19. It has been keeping me active and allowed me to get out of the house and play the sports that I love. It has also allowed me to connect with other people, which would not be possible otherwise, and helped me not feel so isolated. I am lucky to have been able to play sports and have fun during this time.
—Girls' Varsity Hockey and Girls' Varsity Lacrosse Player Sophia Kennedy '22