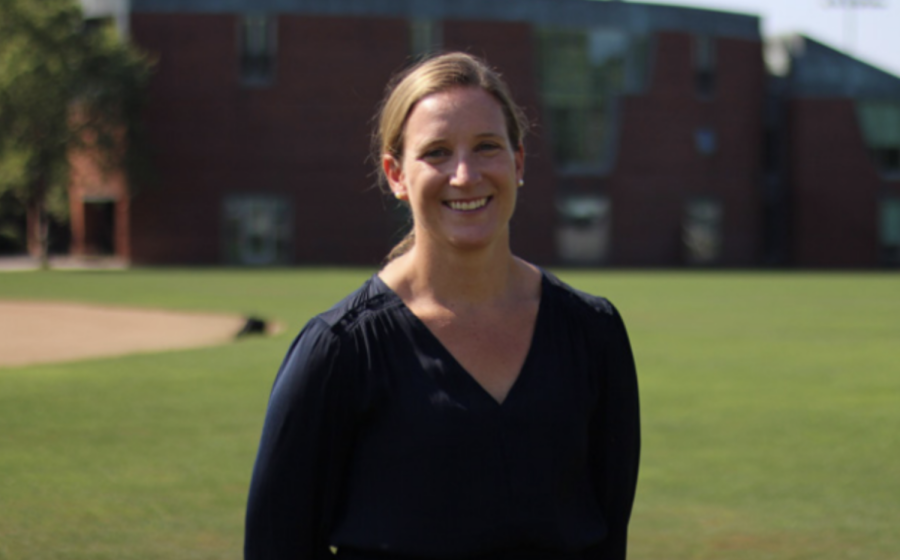 Since arriving at the Upper School in 2004, Associate Director of College Counseling Katie Gayman said the school has been "the place [where] I've cut my teeth." Hired as a science teacher and girls varsity soccer coach and departing as a college counselor, Ms. Gayman said she has evolved as an educator over the nearly two decades she's spent at the school.
"The thing that made me attracted to this place was that students were here for the right reasons," Ms. Gayman said. "That wasn't necessarily for the labels or the sticker on the back of the car. It was for developing these relationships with teachers that could expand their worldview and help them figure out what would be next intellectually, and socially and what kind of life they wanted to lead."
Whether as the senior class dean, a teacher, counselor, or coach, Ms. Gayman mentioned a common highlight: developing relationships with students. Ms. Gayman said what has made her job as a college counselor "such rewarding work" has been the bonds she's made with students and families, and she is excited to continue her work as a college counselor at Phillips Andover
Academy next year.
"It's an incredible privilege to work with multiple students in a family and get to know families as they evolve and grow in their understanding of this world," she said. "That to me is also one of the reasons I absolutely adore this job because you don't get that as a teacher, and these relationships have meant so much to me."
Dean of Students Rory Morton '81 said Ms. Gayman is someone who "really puts her all into things" yet described "typical Katie fashion" as humility. "If you see her engage with kids, you see this focus," he said. "It's like they're the only two people in the world right now because she's giving them her full attention and really listening. She's just so good at connecting."
College Office Manager Christina Myers said the students Ms. Gayman works with "know they are going to get
her best effort 100% of the time."
"When I think of Katie, I think of the Ben Franklin quote, 'If you want something done, ask a busy person,'" she said. "Katie has done it all – college counselor, grade dean, adviser, coach, mentor, and teacher. There is nothing this woman can't do, and she does it all without missing a beat."
Raia Schluter '21, who had Ms. Gayman as an adviser and college counselor, said Ms. Gayman was "one of my hardest goodbyes [when] graduating."
"Every advisory, even with her very busy life, she came in with a big smile and bright persona which lightened everyone's day," she said. "She is an amazing adviser and person with the biggest heart. Anybody who crosses her path is lucky to have her in their lives."